Senior Met Police officer investigated over honours
By Danny Shaw
Home affairs correspondent, BBC News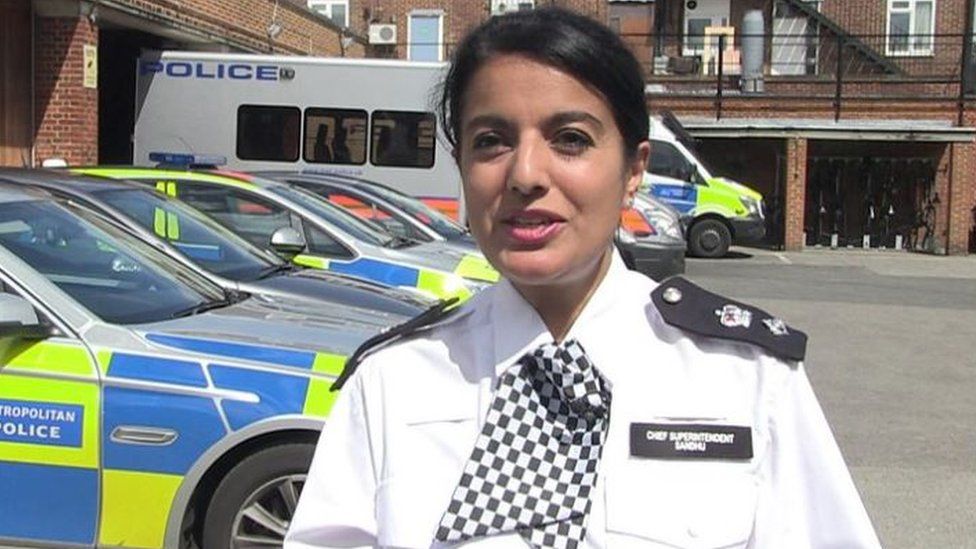 A senior Scotland Yard officer is being investigated for allegedly breaking rules about honours nominations.
Temporary Chief Superintendent Parm Sandhu has been served with a "gross misconduct" investigation notice, meaning she could potentially face a serious disciplinary charge.
In some cases, such a charge can lead to dismissal.
The officer, who's been placed on restricted duties, has declined to comment on the allegation.
Two other Metropolitan Police officers are also under investigation.
BBC News understands the inquiry is focusing on whether Ms Sandhu encouraged colleagues to support her nomination for a Queen's Police Medal (QPM).
The QPM, which was introduced in 1954, is awarded twice a year in the Queen's Birthday and New Year Lists.
The medals are given to serving police officers in the UK in recognition of distinguished service or outstanding courage in the line of duty.
In this year's New Year's honours, 18 officers were awarded the QPM, the same number awarded to officers in the birthday list last month.
National Police Chief Council guidelines say that "any person can nominate any other person for an honour".
However, as with other honours, people are not expected to nominate themselves and are not meant to contribute to or know about the process.
The Inspectorate of Constabulary coordinates the process for those of superintendent rank and below, with applications considered by the Home Office before going to the honours committee, along with recommendations for knighthoods, MBEs and other awards.
The internal Met investigation is examining an allegation that Ms Sandhu may have contacted other officers with a summary of information to support her QPM nomination.
The inquiry is at an early stage and no disciplinary action has been taken so far.
However, the officer has been notified that the investigation is looking at alleged "gross misconduct", which, if proven could lead to dismissal.
Ms Sandhu, who joined the police in 1989, rose through the ranks to become borough commander in Richmond-upon-Thames.
She is one of the most senior ethnic minority officers in the Met and in 2006 received an Asian Women of Achievement award, largely for her work in reassuring the community in the aftermath of the 7 July terrorist attacks on London's transport system.
Last month she tweeted that she "will be promoted to Ch Supt" in the Metropolitan Police, adding: "I will be the first woman of colour to hold this rank."
She is being supported through the investigation by representatives of the Police Superintendents' Association.
In a statement, Scotland Yard said: "The Met's Directorate of Professional Standards (DPS) is investigating the conduct of three officers following an allegation that they breached guidelines relating to the UK honours nomination process.
"A temporary chief superintendent currently attached to human resources was served with a gross misconduct notice on Wednesday 27 June and has been placed on restricted duties.
"Two other officers - a detective superintendent and an inspector, both from frontline policing - were served with misconduct notices on Wednesday 27 June. They remain on full duties. Enquiries continue."