Anglo-French pact sees Bayeux Tapestry return to UK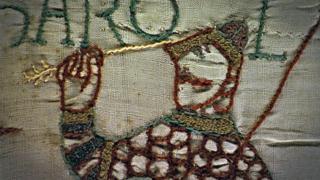 The Bayeux Tapestry is set to return to the UK in 2022, after nearly 1,000 years.
The tapestry - said to have been created by nuns in England in the 11th Century - depicts the Norman Conquest of England in 1066.
An Anglo-French agreement would see it displayed to the British public at locations yet to be announced.
The two countries will also work together to produce a full English translation of the tapestry.
Culture Secretary Matt Hancock said: "The Bayeux Tapestry is a world treasure and a symbol of the deep ties between Britain and France.
"We are incredibly excited about the potential of the loan, to enhance further the bonds that tie us to our neighbours across the water."
The 70-metre long tapestry tells the story of the future William I's conquest of England, culminating in the Battle of Hastings and the defeat of Harold in 1066.
It is on permanent display at the museum in Bayeux in Normandy but has previously been shown at other locations across France.
The tapestry could come to the UK while the museum undergoes refurbishment.
What are the tapestry's origins?
It is first referenced in an inventory from Bayeux Cathedral in 1476.
According to Reading Museum, which houses a replica of the tapestry, it was "probably commissioned" in the 1070s by the half-brother of William the Conqueror - Bishop Odo of Bayeux.
Some say it was created by teams of nuns across England - not France - possibly in Canterbury, Kent.
In 2012, a PhD researcher at the University of Manchester said the artwork's needlework was "consistent throughout", suggesting one group of specialist embroiderers worked on it, in the same place at the same time.
What does it depict?
The tapestry opens with Harold, the Earl of Wessex, promising William of Normandy that he would support William's quest to inherit the throne of England, on the death of King Edward
The story then moves on to Edward's funeral, and Harold breaking his promise by accepting the crown.
On hearing the news, William decides to invade England and take the throne he believes to be his.
His army lands in East Sussex, and the rivals meet at the Battle of Hastings which ends in Harold's death.
It was a turning point in history as it ended the Anglo-Saxons's long reign of more than 600 years.
Where has it been exhibited?
Napoleon put the tapestry on display in Paris in 1804, while he was planning an invasion of England.
It was then exhibited in Paris for the second time in 1944, during World War II, before it was returned to Bayeux.
This agreement comes after previous attempts to bring the tapestry to Britain failed.
One request is thought to have been made ahead of the Queen's Coronation in 1953, while another was made for the 900th anniversary of the Battle of Hastings, in 1966.