World Cup 2018: Gareth Southgate's compassion praised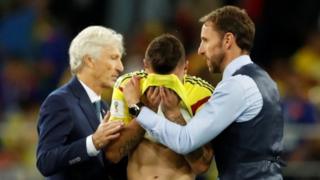 Amid England's celebrations after winning Tuesday's penalty shootout to enable them to progress to the quarter-finals of the World Cup, manager Gareth Southgate was comforting a Colombian player who had missed his penalty.
Southgate knows only too well what that feels like.
In the Euro 1996 tournament, England's semi-final against Germany went to penalties.
Southgate's saved penalty gave Germany the chance to go through to the final if they scored their next penalty, which they did.
The England manager at the time, Terry Venables, hugged a devastated Southgate.
Now, images of Southgate being consoled 22 years ago and being the consoler after Tuesday's game have emerged online, prompting praise for Southgate's compassion towards Colombia's Mateus Uribe, who missed his spot-kick.

One Twitter user tweeted this image of Venables talking to Southgate after his penalty miss in 1996.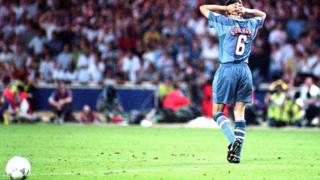 BBC Sport tweeted images of Southgate's emotional reaction to his team winning the penalty shootout. Many commented online how the win has laid to rest Southgate's ghosts from 1996.

US radio host Roger Bennett surmises on what Southgate was feeling when he saw his England team win.

One England supporter tweeted how proud he is to be English: "[Southgate's] compassion towards the Colombia players who were distraught at losing was humbling, he knows he's been there, the way this man conducts himself, his integrity/honesty/empathy is a joy to see."
Another tweeted: "The more I see of Mr Southgate, the more impressive he gets."
A third tweeted her admiration for Southgate: "He's been there, it destroyed him, he got back up with more self-belief and compassion to rise to the top. This is a true leader, this is what the England team needed. Hats off to Mr Southgate."
Others have commented on how nice Southgate is using the hashtag #GarethSouthgateWould.


One group of supporters changed the words of Atomic Kitten's Whole Again to show their love for Southgate.

.
By Andree Massiah, BBC UGC and Social News team