Cressida Dick: post-Brexit information sharing 'clunkier'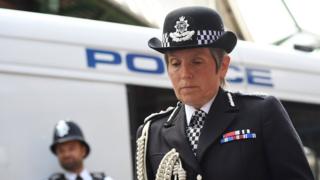 The Metropolitan Police Commissioner, Cressida Dick, has warned that sharing crime information after Brexit will be "clunkier, clumsier and more expensive" - unless a security deal is reached.
The government is negotiating with the EU to ensure continued access to Europol and a range of law enforcement databases.
Ms Dick told the London Assembly's police and crime committee at City Hall that police made "very good, capable and productive" use of the current EU arrangements and they were "important" in helping to keep London safe.
Sophie Linden, London's deputy mayor for policing and crime, said the prospect of losing access to EU intelligence was "incredibly worrying" and would mean that police would have to phone colleagues overseas each time they wanted information.
Ministers have proposed a security treaty under which suspects could be speedily extradited between states, as they are now under the European Arrest Warrant system.
Ms Dick said it was up to the government to do the negotiations and she expected close working with agencies abroad to continue after Britain leaves the EU.
The meeting also heard that security plans for Donald Trump's state visit to the UK next week were "extremely fluid".
The commissioner said it was a "very dynamic" operation, pointing out that President Obama arrived 14 hours early when he visited.
She said Scotland Yard would be in charge of protecting the US president, who was expected to be bring a larger entourage than other heads of state.
Discussions were also underway with the National Police Chiefs Council about cooperation with other forces when Mr Trump travels outside London, and with the Home Office about extra funding.
"I anticipate we'll be able to put in a very sensible bid and look forward to the result," Ms Dick said.
'Out of control'
The commissioner moved on to discuss the violent behaviour of some young people in London, describing it as "feral".
The term was used last month by a senior Scotland Yard officer, Assistant Commissioner Martin Hewitt.
Ms Dick said it was a "strong word" that many would use to describe the "out of control" behaviour by young people who appeared to be enjoying "extreme" violence.
But she added that it did not mean there were "lots of gangs" running wild on the streets of the capital.
Ms Dick told the committee that levels of violent crime had plateaued over recent months, with eight homicides in London in June - the lowest monthly figure this year.
But she said the Met's increase in resources to tackle the problem, such as stepping up stop and searches, were "robbing Peter to pay Paul".
"I can't say we are doing more than stabilising," she added.
Earlier, Ms Dick confirmed that there would be more trials of facial recognition technology following a pilot in Stratford, east London.
"It's a tool - it's a bit like having a super-recogniser," she said, referring to police officers with extraordinary powers to memorise people's faces.
She said the trials involved "massive safeguards", saying the force's legal team ensured that the measures were used lawfully and appropriately.
"The lawyers are all over it," she added.
But only one person has been detained following the trials conducted so far.
"I'm not expecting it to result in lots of arrests," said the commissioner.