World Cup 2018: When babies stop play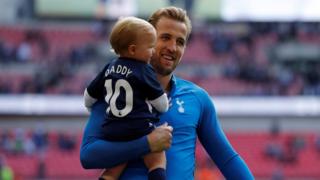 It's a decision most of us are unlikely to ever have to make: be at the birth of your child or represent your country on a world stage as they (potentially) make sporting history?
England's Fabian Delph has gone with the former and left the World Cup in Russia to join his wife Natalie, who was due to give birth on 30 June.
His decision has been supported by England manager Gareth Southgate who said "some things in life are more important than football".
"Everybody says you only get one chance to be in a World Cup, but also there's only one day in your life when your children are born," he said.
But Delph may be in the market for a return flight to Russia as Southgate added that the midfielder was "buying his wife curries and all sorts of things to try and aid the speed of process".
Good intentions
Perhaps the luckiest sport stars are the ones who have narrowly escaped actually having to make the decision.
In 2016, Andy Murray said he would leave the Australian Open early if his wife, Kim, went into early labour with their first child.
"I'd be way more disappointed winning the Australian Open and not being at the birth of the child," the tennis player said at the time.
In the end Murray made it to the final - finishing runner-up to Novak Djokovic - before getting on the "next flight home" to be at his wife's side in time for the birth of his daughter Sophia.
Two years earlier, Roger Federer said he was prepared to miss the French Open to be with his wife when she gave birth.
"I've played enough tennis matches," he told reporters. "Missing a tournament or missing a match wouldn't change anything for me."
The grand-slam champion went on to get knocked out before the quarter-final stage.
Those who missed out...
World Darts Champion Rob Cross revealed he missed the birth of his third child last year in order to qualify for the World Matchplay tournament.
"The missus pushed me to do it. I said I would make the birth and she said, 'No, you can't...'," he said.
"They know I play darts for them - that everything is to give them a better life."
Meanwhile South Africa cricket captain Faf du Plessis missed the first Test against England at Lord's in 2017, following the birth of his first child.
Paralympic gold medallist and London Marathon winner David Weir missed the birth of his fourth child during the Rio Paralympics in 2016.
He later revealed the guilt he felt, telling the Telegraph: "I didn't feel like a man. I felt like I should have been there to support someone who was having my child."
Those who still could...
Switzerland forward Breel Embolo left the tournament to see the birth of his daughter and is already back in Russia in time for his team's last-16 clash against Sweden on Tuesday. He described the mad dash as "the most beautiful 24 hours" of his life.
But the timing hasn't quite worked out for Sweden's captain Andreas Granqvist. His second child is due on the same day as the knock out match in St Petersburg.
Asked about his decision to stay in Russia, Granqvist told reporters: "I'm fully focused on the game tomorrow and my wife is very strong."
Another captain who - along with millions of fans - will be hoping not to be faced with such a decision, is England's very own Harry Kane.
His fiancee Katie Goodland has been watching England progress from the UK, as she prepares to give birth to their second child.
The couple announced their pregnancy in January and with pictures of a baby shower shared online, many are expecting a new arrival this month.
Fans haven't been too sympathetic at the prospect of the striker making an early exit, with some suggesting he watch it on Facetime, while others have volunteered to substitute in for him at his fiancee's bedside.
And those whose decision is already made...
Sports women, of course, do not have the luxury of such a decision.
Last year Serena Williams won the Australian Open whilst pregnant. She missed Wimbledon, before giving birth in September, during which she almost died.
The twenty-three-time Grand Slam champion is back at Wimbledon and already through to the second round.
And in 2014, Olympic champion Jessica Ennis-Hill was forced to withdraw from the Commonwealth Games in Glasgow after she became pregnant with her first child.
Speaking at the time, she admitted the news was "very unexpected" and had "completely turned upside down" her plans for 2014.