PM presenter Eddie Mair 'offered to take pay cut'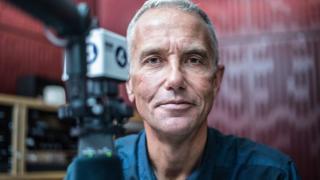 Eddie Mair has denied he is leaving the BBC over "pay problems" - saying he offered "in writing, to take a cut".
The departing presenter of Radio 4's PM programme said he was leaving the corporation after more than 30 years "to do something a little different".
The presenter earned between £300,000 and £350,000 a year. He said it "tickled" him that he was "apparently refusing" to reduce his salary.
Mr Mair will leave PM in August to take on a new role at LBC.
After the BBC was criticised for its gender pay gap, six male journalists - including leading Today presenter John Humphrys, and News at Ten's Huw Edwards - agreed to take a cut.
Some reports suggested that Mr Mair refused to do likewise - but, writing in the Radio Times, he said that wasn't true.
"None of my thinking has been influenced by the BBC's pay problems. I'd offered, in writing, to take a cut.
"The first article appeared before we'd even discussed pay, and later it was said I was staying off work in some kind of protest: in fact, as RT [Radio Times] readers know, I was in hospital trying to avoid sepsis."
He added: "Whenever anyone leaves a job, people ask 'Did they jump or were they pushed?' There can be a lot of truth hidden behind gushing statements.
"Honestly, this was my choice and the main driving force behind it was a desire to do something a little different after 20 years in one job."
Mr Mair, who began presenting PM in 1998 and became its main host in 2003, said he had been affected by the early deaths of fellow Radio 4 colleagues.
He paid tribute to Nick Clarke, Howard Philpott, and Steve Hewlett, who documented his battle with cancer of the oesophagus on PM.
Mr Mair said: "I've no reason to believe I'll be next but it's always later than you think.
"I didn't want to be counting the days to retirement. Maybe I should give something else a whirl while I still can."