Radio 4's PM presenter Eddie Mair to leave BBC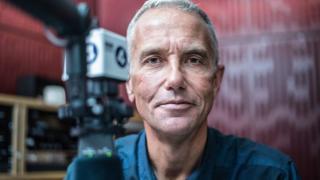 Presenter Eddie Mair is to leave the BBC after more than 30 years, the corporation has said.
The 52-year-old, who has been a presenter on Radio 4's PM programme since 1998, will host his last show on 17 August.
He joked: "I thought this was the appropriate moment to step out and give someone else a chance, before I'm so old my sentences make no lasagne."
His successor will be announced in "due course", a BBC statement said.
Mair tweeted his thanks for "all the kind words" from fans, and hinted he would appear elsewhere as he was "changing jobs".
According to the BBC's media editor Amol Rajan, Mair is set to join talk radio station LBC.
Fran Unsworth, director of BBC News, said: "Eddie has delivered outstanding journalism and created a real bond with the audience through his mixture of warmth, incisive questioning and knowing when to listen in order to get the very best out of his guests.
"He is one of the outstanding broadcasters of his generation and his new employer is very lucky to have him."
Mair joined PM as a regular co-presenter in 1998 before becoming the sole host in 2003.
He has also presented Newsnight on BBC Two and helped to launch Radio 5 live.
'Best job in BBC'
He said: "I'm truly grateful to the BBC for being given more opportunities over the years than I deserved.
"My apologies to PM listeners for all the things I've said that I shouldn't have, and all the things I should have said that I didn't.
"Whoever comes next will be getting the best job in the BBC and I honestly wish them the very best."
Gwyneth Williams, controller of Radio 4, said he was "a consummate broadcaster".
She said: "You want to be in his hands when news breaks and I remember too, with respect, but also personal sadness, his conversations with Steve Hewlett during Steve's illness."
Hewlett, presenter of the Media Show, shared his experience of coping with cancer in a series of interviews with Mair, who announced his Radio 4's colleague's death on his show last year.
Vine exit
The BBC has also confirmed that Jeremy Vine will leave Points of View after presenting the programme for 10 years.
It comes after he was announced as the successor to Matthew Wright to front "The Wright Stuff" on Channel 5, which will be rebranded.
Vine will continue his weekday BBC Radio 2 show.
The presenter thanked viewers for their comments, "good and bad".
Vine added: "It's given me such a privileged position to look at everything the BBC does on TV - watching it all from your point of view."