Armed Forces Day: More than 300 events held globally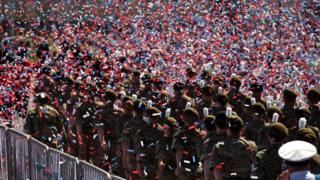 Events are being held around the world to mark the UK's Armed Forces Day.
Around 100,000 people were expected at the main national event in Llandudno, Wales, with street parties and military parades taking place elsewhere.
Prime Minister Theresa May met military personnel, volunteers and members of the public in Llandudno.
Mrs May praised the "professionalism and bravery" of the armed forces and announced Salisbury as the venue for next year's event.
More than 200 events are open to the public in the UK. Overseas, celebrations include a parade in Orhuela, Spain and an open day at a British military base in Larnaca, Cyprus.
British military bases elsewhere around the world are also taking part.
The prime minister was greeted with light applause at Venue Cymru, Princess Anne was cheered on her arrival.
Brass bands from all sectors of the armed forces played as they took it in turns to salute the princess in the parade along Llandudno promenade.
Red, white and blue confetti fell during the first event of the celebrations.
After a Red Arrows air display, Mrs May met members of the public and military personnel.
The prime minister announced that next year's event will be held in Salisbury - after the nerve agent attack there.
Mrs May told volunteers there was "nowhere more suitable" than the Wiltshire city to hold next year's celebrations, describing the military response to the incident as "remarkable".
Speaking at the event, Defence Secretary Williamson said the 10th Armed Forces Day was "a valuable opportunity to honour our troops who work so hard to keep us safe".
In a video posted on social media, Labour leader Jeremy Corbyn said Labour "strongly supports the Armed Forces Covenant by which this country promises that those who have served, and their families, are treated fairly".
Mrs May also announced the UK will hold its first ever national games for wounded, injured and sick veterans and personnel next year.
She added the decision was "inspired by the Invictus Games".