Virgin Atlantic stops accepting forced deportations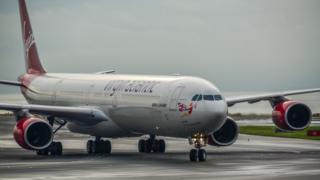 Virgin Atlantic is to stop working with the Home Office on forcible deportations from the UK of people deemed to be illegal immigrants.
The British airline says it has informed the government of its decision, saying it was "in the best interest of our customers and people".
It comes amid concern over the removal of Windrush generation migrants and LGBT asylum seekers.
Activists are urging other airlines to take similar action.
Virgin Atlantic said: "We've made the decision to end all involuntary deportations on our network, and have already informed the Home Office."
A spokeswoman declined to give details of the number of Virgin Atlantic flights or individuals affected.
Cost of flights
According to the Guardian, Virgin has provided seats on its commercial flights to detainees and security officers accompanying them for many years.
A charity in Jamaica that helps resettle deported people told the paper detainees regularly arrived on Virgin flights.
Immigration Minister Caroline Nokes told Parliament last month the majority of enforced deportations used scheduled flights, where people sit alongside paying passengers.
She also revealed the government spent £17m on such flights between 2016 and 2017 and £17.3m between 2015 and 2016.
'Public opinion shift'
Activist group Lesbians and Gays Support the Migrants said Virgin told it of the move in response to a yet-to-be published open letter it has written highlighting the deportations of people to countries where they risked persecution.
Sam Bjorn from the group added: "The fact that the company has finally opted to break with this controversial practice testifies to a profound shift in public opinion on deportation since the emergence of the Windrush scandal."
The Windrush scandal hit headlines in April after it emerged that some migrants from Commonwealth countries, who were encouraged to settle in the UK from the late 1940s to 1973, were being wrongly categorised as illegal immigrants.
They were part of what is known as the Windrush generation - a reference to the Empire Windrush - the ship that brought workers from the West Indies to Britain in 1948.
Their treatment coincided with the Home Office's adoption of a "hostile environment" approach, designed to tackle the issue of illegal immigration, and so far, the department has identified 63 people as having been possibly wrongly deported.
'Ethics' decision
Lesbians and Gays Support the Migrants wants British Airways and Qatar Airways - who also work on enforced deportations with the government - to end their involvement.
Labour MP Stephen Doughty, who is on the Home Affairs Select Committee, has been questioning the government over its deportation policies and welcomed the move from Virgin Atlantic.
He told the BBC: "The whole system of detention and deportation appears to have serious flaws, not just for the Windrush generation, but other individuals who have been subject to wrongful detention - including one of my constituents.
"So it is a business decision for airlines, around their culture and ethics."
Asked if other airlines should follow suit, Mr Doughty added: "If they want to facilitate this system that has a series of questions around its checks and balances... well, they may want to think about it again."
The airlines did not immediately respond to requests for comment.
A Home Office spokesman said: "We do not comment on operational matters."