UK 'knew US mistreated rendition detainees'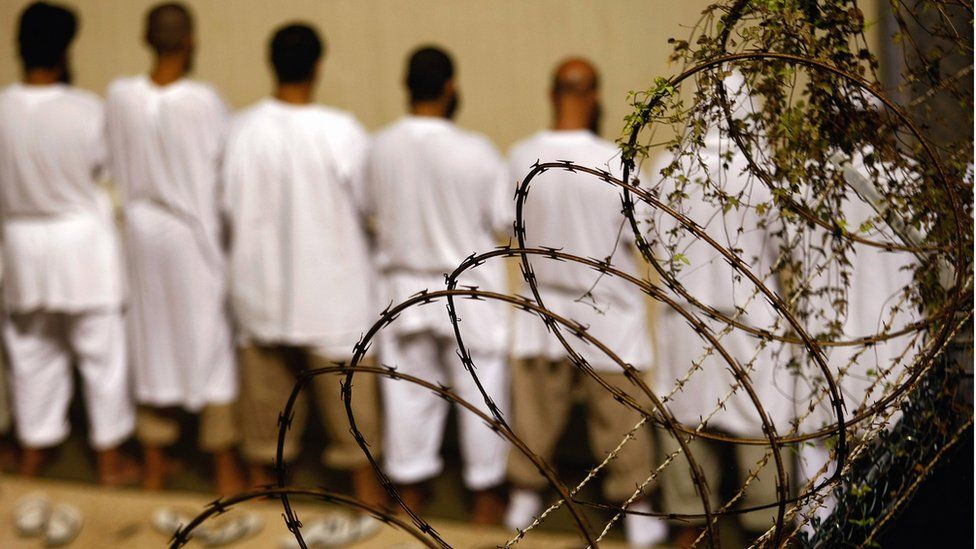 The UK tolerated "inexcusable" treatment of US detainees after the 9/11 attacks, MPs have found.
Committee chairman Dominic Grieve said agencies knew of incidents that were "plainly unlawful".
The findings have sparked fresh calls for an independent, judge-led inquiry.
The two parliamentary reports, published following a three-year investigation, examine how far Britain's intelligence agencies were aware of the mistreatment of terrorism suspects.
The ISC said it was "beyond doubt" that the UK knew how the US handled some detainees and rejected claims by intelligence agencies that the cases detailed were no more than "isolated incidents".
But the committee found no "smoking gun" to suggest a policy of deliberately overlooking such cases.
Lord Falconer, who served as Labour's lord chancellor at the time, told the BBC that the UK government failed to act quickly enough after learning of British complicity in torture.
Prime Minister Theresa May said British personnel worked in "a new and challenging operating environment" which some were "not prepared" for.
She added "it took too long to recognise that guidance and training for staff was inadequate", and said British intelligence and the Army were "much better placed to meet that challenge".
Speaking to the BBC's World at One, committee chairman Dominic Grieve said UK renditions were organised to countries "with very dubious human rights records, where it would have been very likely that the person would be in fact tortured or ill-treated".
He said British agents working in the US reported concerns about behaviour by their American colleagues, but there "was no response at the London end" and "no questions were asked" until 2004.
The reports come a month after the UK government issued an unprecedented apology to Abdul Hakim Belhaj and his wife, who say they were abducted and taken to Libya after a tip-off from MI6.
Mr Belhaj, a Libyan dissident, was tortured and spent six years in prison.
Speaking on Thursday, Mr Belhaj's lawyer Sapna Malik said there seemed to be a "real deference" to the US.
"In a way, this report shows that that [Belhaj case] was not an individual, isolated case, there was a wider pattern of co-operation by the UK," she said.
The report showed no evidence of direct mistreatment by British intelligence agencies, but there were 13 cases where spies witness first-hand a detainee being mistreated by others, BBC security correspondent Gordon Corera said.
UK involvement in US rendition programme
The UK participated in interviewing between 2,000 and 3,000 US detainees after 2002
British agencies suggested, planned or agreed to a rendition operation in 28 cases
MI6 and MI5 offered to help fund a rendition operation three times
The UK knew or suspected detainees were abused in 232 cases
In 198 cases British agencies received information from interrogations where they knew detainees had been mistreated
British personnel threatened detainees in nine cases but there is no evidence they carried out abuse
Former Foreign Secretary Jack Straw, who was responsible for overseeing GCHQ and MI6 between 2001 and 2006, said he was not aware of the activities or approach of the agencies, adding: "Many lessons... have since been learnt".
Ken Clarke, who chairs the parliamentary group on extraordinary rendition, renewed calls for an independent inquiry into the UK's role, "to get to the full truth".
He said the ISC report's findings were "not small issues which can now be swept under the carpet - and the government must address them urgently".
Speaking to BBC's Newsnight programme, Lord Falconer said: "We took much too long as a country to work out what our red lines were."
He called for the inquiry into UK complicity in torture overseas to be reopened.
Labour's shadow attorney general, Baroness Chakrabarti, and human rights campaign group Reprieve also called for a judge-led inquiry, saying the ISC's report was too limited.
Baroness Chakrabarti said in the period after 9/11 the US was "dabbling in these most horrific practices and - to some extent - the UK government went along for the ride".
The ISC launched its investigation after plans for the independent judge-led Gibson Inquiry collapsed. It studied documents, interviewed former detainees and three ex-officials.
But the government denied the committee access to officers who were involved at the time of the UK's involvement in rendition, the report says.
Did the ISC get to the whole truth?
By Dominic Casciani, BBC home affairs correspondent
Today's ISC reports come six years after a judge-led inquiry was scrapped and court battles failed to get to the bottom of all allegations that the UK got its hands dirty after 9/11.
But did the committee get to the whole truth?
By its own account, probably not, because it was barred from speaking to some key officers - and it can't entirely establish whether all lessons have been learnt.
Today, if a foreign agency is known to be torturing a detainee of interest to the British intelligence agencies, ministers must be informed - that is guidance that has been published.
These new rules are being consulted more than 570 times a year - but the ISC doesn't know how many of those cases are being flagged to ministers.
Secondly, the ISC was astonished there is still no policy on whether and how UK personnel can be involved in rendition.
Ken Clarke was the justice secretary who scrapped the original judge-led inquiry when new allegations of criminality took legal priority.
Today he's called for a new inquiry - and other critics have long said that any alternative investigation will never uncover all the wrongdoing.
British citizen Moazzam Begg, previously held in Guantanamo Bay, criticised the inquiry's scope as inadequate, saying "we still don't know the process of accountability".
Speaking about his own detention, he said British agents "were there watching as I was hooded, shackled, with a gun to my head" and claimed they knew he had been led to believe his wife was being tortured.
The ISC report said in one case, Ethiopia-born UK resident Binyam Mohamed was held in Pakistan in 2002 - and that MI5 and MI6 were informed by US agents he had been subjected to sleep deprivation.
The report said MI5 failed to act on that information before its own officer arrived to interview Mr Mohamed.
The US then secretly moved Mr Mohamed to Morocco, where he was tortured. MI5 asked its American allies what was happening to him - but was rebuffed.
Despite this, the ISC report says, the agencies gave questions to the US to be put to him. Mr Mohamed was later returned to the UK.
Rendering or rendition involves sending a person from one country to another for imprisonment and interrogation, probably by methods such as torture, that would be illegal in the country doing the rendering.
US intelligence agencies used the process of "extraordinary rendition" to send terror suspects for interrogation by security officials in other countries, where they have no legal protection or rights under American law.