Life on the 82 other Great British islands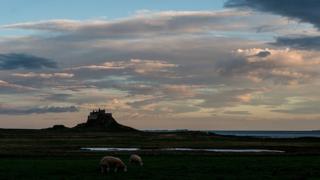 "There's a junior school here," says Lindisfarne resident Dick Patterson. "But we've only got one pupil."
Life on Great Britain's outer islands is not always easy - but that has not stopped people making them their homes.
An Ordnance Survey (OS) analysis of the 82 islands that measure more than 5 sq km (2 sq miles) off the coast of Great Britain shows they are home to almost 300,000 residential addresses - around 1% of the British total.
Lying off the coast of Northumberland, Lindisfarne - also known as Holy Island thanks to its rich Celtic Christian history - is one of them.
"I'm 74 years old and I've lived here all my life," Mr Patterson tells the BBC. "I wouldn't swap it for anything."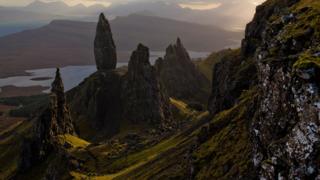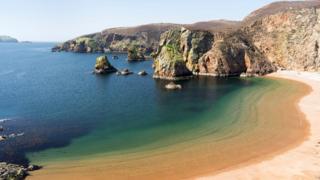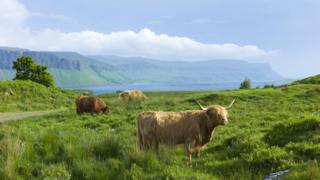 He admits, however, that life is not always simple.
A causeway connects the island to the British mainland, but the changing tide makes it impassable depending on the time.
"To do anything we have to go by the tide times," says Mr Patterson. "If you need to make an appointment or go shopping, you consult the tide times."
"We were blocked off in February for five days," he adds. "Snow and ice covered the causeway and no one could get off. That's only happened twice in my lifetime."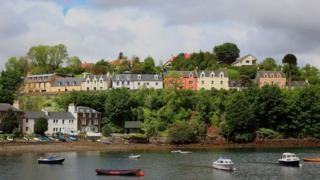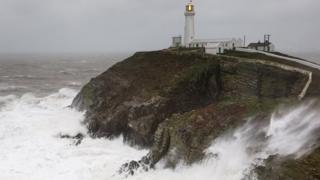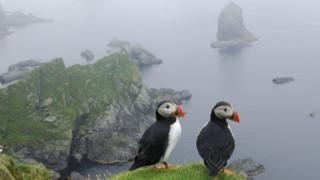 OS has focused its research on Great Britain's islands, meaning the Channel Islands, Isle of Man and Northern Ireland's islands are not included - but the 82 listed still consist of more than 11,000 sq km of land.
Seventy-one of the islands - many making up the Hebrides, Shetland and Orkney - are off the coast of Scotland, while only two are off the coast of Wales.
Portsea Island - which includes part of the city of Portsmouth - is the most inhabited, with 74,645 residential addresses.
The northernmost island in Great Britain is Unst - part of the Shetland Islands.
With 370 homes, Unst residents do not quite know everybody else who lives there - but the situation is not far off.
Peter McLaren, 49, moved there from mainland Scotland seven years ago.
"Not everyone [knows each other]," he says. "There are 500 odd people on the island, but we know most of our neighbours and everyone gets on very well.
"There's a real feeling of community - everyone looks out for everyone else."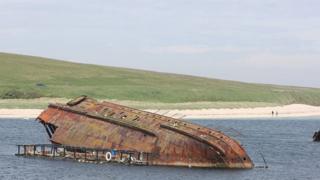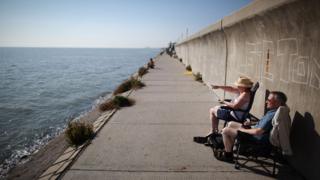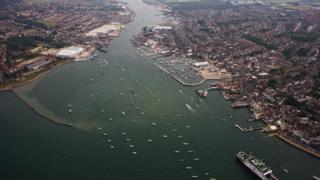 Mr McLaren and his wife run a rental property on Unst, but says they, like many residents, need multiple jobs to survive in such a remote part of the country.
"There's still a lot of agriculture and crofting but it's quite hard," he says. "A lot of people have a couple of jobs - they might work their own croft and then work in the school or on the ferry.
"Previously, there was the RAF base up here but not any more."
While experts stress it is hard to estimate the exact number of islands off the coast of Great Britain - the changing tide can unearth islands or split them in two - OS says there are more than 7,700.
Many aspects of life vary on the different islands - but some do not. Royal Mail, for example, delivers to every inhabited part of the UK.
The company says that, weather permitting, it delivers to "every address - more than 30 million - no matter where it is in the UK".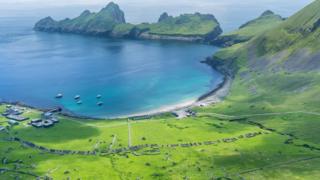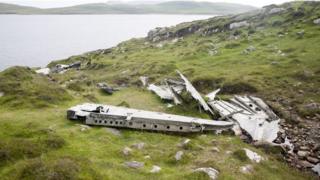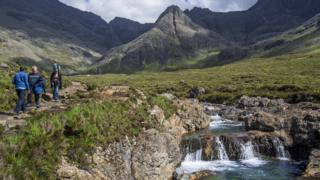 While many are happy to make sacrifices for the chance to live on Great Britain's outer islands, some residents have noticed a decline in the number of permanent inhabitants.
Five of the islands - Hirta, Mingulay, Pabbay, Scarp and Taransay - surveyed by OS now have no permanent residential addresses while a further nine have fewer than 10.
"When I was a boy, 90% of the houses were permanently occupied," Mr Patterson says of Lindisfarne.
"Now, we've only got about 40% permanently occupied - the others are holiday homes or second homes."
He adds: "I think it's the same in a lot of rural or seaside towns."
Read more: Why we live on a remote island