Child obesity: Will new measures make your life easier?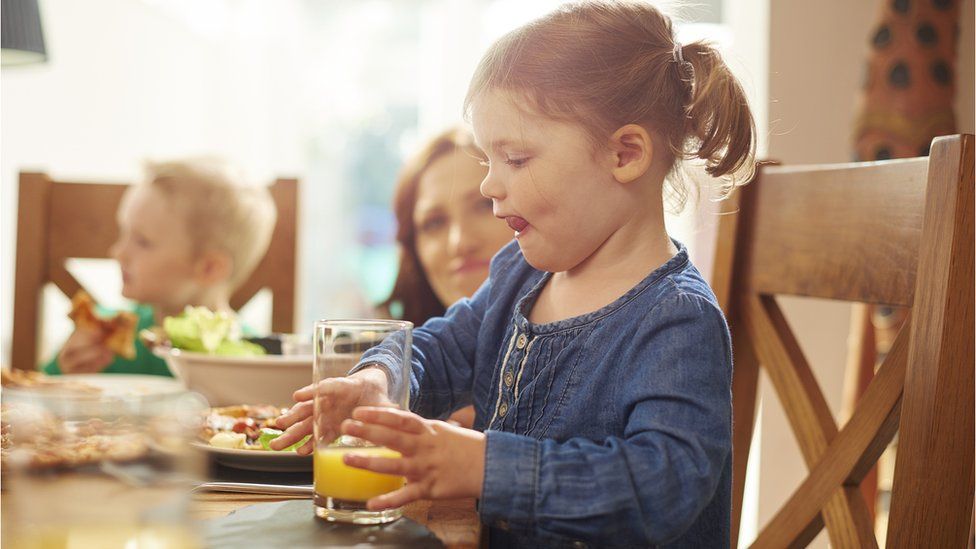 The government is planning new rules to tackle childhood obesity by targeting supermarkets, junk food adverts and restaurant menus.
The tighter restrictions have been broadly welcomed - although many people say they raise a number of issues.
'Daily battle' at checkout
Under the new proposals, the sale of sweets and fatty snacks will be banned at checkouts, shop entrances and in buy-one-get-one-free deals.
Sarah Galvin, from Southampton, welcomed the news and said the "daily battle" with children at shop checkouts will be "much easier" without unhealthy snacks.
Karrie Langdon, who lives in a village and is eight miles from the nearest supermarket, said her local shop used to be "well stocked with healthy foods and fresh vegetables" before being taken over by a chain.
"I walked into the store and was confronted with a wall of sweets and sugary drinks," she said. "The fresh veg and fruit has been reduced to a small area tucked away.
"If consumers are faced with only being able to purchase from this type of shop, what choice do people have to eat healthier?
"Unless there is a change of policy within the retail area then promoting healthier choices will not work."
British mother-of-two Belinda Griffith spent 16 years living overseas in Singapore and the Netherlands and said she was struck by the difference in people's shopping habits in the UK and abroad.
"They sell food in the UK in much larger packages which means you have to buy a greater quantity than you actually need," she said.
"There's also the reliance on ready-prepared foods where the portion size is also predetermined."
Supermarkets Co-op, Aldi and Tesco said they do not stock sweets at checkouts while Sainsbury's and Aldi said they do not run multi-buy promotions.
The Co-op also said it uses traffic light labelling and will be "looking at the plans in more detail to respond to the consultation".
Clare Shaw said the proposed rules were good measures" but suggested the government should use the money generated by the sugar tax to subsidise fruit.
"[Fruit] is always expensive to buy and is much better for the children," she said.
"Why is it cheaper to buy a multipack of Mars bars than it is to buy a punnet of grapes or strawberries?"
Food campaigner Jack Monroe, who is known for her blog about cooking for a family on a shoestring, tweeted: "This may be kind of radical but why don't they just make healthy food cheaper?"
Ads 'make parents' job harder'
The government is also considering the introduction of new rules on advertising unhealthy food to children on TV and online - which could include a pre-9pm ban.
Ms Galvin said a ban on ads for unhealthy food was "well overdue", adding: "It baffles me that companies are allowed to advertise sweets, McDonald's on children's TV, or any TV pre-watershed.
"Kids don't need this advertised to them and it makes our job as parents harder."
Peter Whitaker from Malton in Yorkshire agreed: "Simple, change their diet, less chips more greens, and get them out for more exercise."
'How will we work out the calories?'
Restaurants, cafes and takeaways are also being targeted under the proposed measures, which will require them to provide clear calorie labelling.
Michael Birt, who runs an independent pub in rural Leicestershire, said the new mandatory calorie information on menus "will lead to a lot more of our type of business failing, lead to a lot more mass-produced food on menus and less choice for the consumer".
He said: "How are we supposed to work out what calories are in a dish to put in a menu, or are we expected to pay an outside nutritionist to work this out for us?"
"Nowadays eating out is becoming a luxury and it is more of a struggle for businesses like mine to survive without additional regulation set by the government."
However, Heath Secretary Jeremy Hunt told the BBC on Sunday that there could be possible exemptions for smaller businesses. But all big restaurant chains would have to provide calorie labelling.
There was a mixed reaction on Twitter, with some diners welcoming the requirement for nutritional information.
But one said it is "going to take the joy away from eating out" while another said: "It will not be pretty".
Someone else added: "I can't tell you how much I utterly disagree with putting calorie information on restaurant menus.
"As someone who suffers from an eating disorder that is one of the worst things you could do."
Obesity 'is a mental health issue'
Nicola Earl said that focusing on the price of sugary drinks or sweets "isn't going to make any difference", adding: "A smoker continues to smoke whatever the price and a drinker finds cheaper brands".
She said: "I strongly believe obesity is a mental health issue. We need to look at why a child is being overfed.
"Whether someone is going to have issues around food will often be determined by events in childhood or their parent's own issues with food.
"Many people eat compulsively for many different reasons and repeat the same pattern with their children, just as children see parents use unhealthy strategies to control their weight."
'We must overhaul exercise too'
Liz said her 11-year-old son is overweight and, despite being aware of healthy eating, is "tempted to eat the wrong food as comfort food".
She said he has tried their local council's exercise programme - which includes the gym, swimming classes and football - but "they are expensive and he's not a team player".
She said: "He's been slowly put off exercise by the school and his friends.
"I think he's made to feel that he's no good at team sports. I also find sports teachers aren't sensitive to reluctant children, my son is conscious of his weight and slowness."
"Sport and other activities need to be free outside of school. Activities should be introduced where parents and children can take part together."
Duane Edwards, from Tidworth, Wiltshire, said society has "failed the children of today by being over-protective, not letting them go out and play".
"I compare it to our childhoods back in the 80s and 90s," he said. "Children back then were never in the house, we would be out climbing trees, placing up rope swings, swimming in rivers, playing in the countryside and playing all sports imaginable without our parents there to keep an eye on us."