Khawla Barghouthi jailed for not revealing attack plan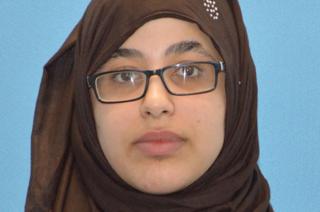 A woman who witnessed her friend preparing to carry out the first female-led terrorist attack in the UK has been jailed for 28 months.
Khawla Barghouthi also faces deportation to Tunisia after admitting failing to alert the authorities to Rizlaine Boular's plan.
An Old Bailey judge told Barghouthi, 21, there was no doubt her friend would have gone ahead with the attack.
Boular, her mother and her sister have all been convicted.
In April 2017, specialist counter-terrorism armed officers raided Barghouthi's north-west London home, hours after a bugged conversation revealed that her friend Rizlaine Boular was inside and practising wielding a knife for an attack.
The recordings revealed that Boular was preparing to attack people in the Westminster area, apparently egged on by her younger sister and mother.
She told Barghouthi that she preferred to attack women or a single man because of the risk she would be overpowered by a group of men - and then the pair laughed at the possibility of the attack being a "flop".
Barghouthi said: "That would be the worst thing that could ever happen - like you start a terrorist thing and then you stall."
Videos from the Isis terrorism group, celebrating other attacks, were also downloaded onto Barghouthi's phone during the hours the two women were together.
In a statement to the court, Barghouthi said she never believed her friend was actually going to do anything.
"When I read the transcript I was horrified how it sounds," she said. "What I can say, at the time it was extravagant talk and very stupid fooling around."
But Judge Mark Dennis QC said: "There was a growing awareness over a number of days of the nature of the attack by Rizlaine Boular.
"There is no reason, in my view, to doubt that Rizlaine Boular intended to carry out her violent action, even at the cost of her own life."
Barghouthi was initially charged with preparing an act of terrorism - but her later plea of guilty to the lesser charge of failing to notify the authorities was accepted by prosecutors.
Rizlaine Boular and her mother Mina Dich have already been jailed for preparing an act of terrorism.
Rizlaine Boular's younger sister, Safaa Boular, 18, also convicted, is yet to be sentenced.
Safaa Boular became the youngest woman in the UK to be convicted of preparing a terrorism attack which had been encouraged by a fighter in Syria.