'Grenfell two in the post' if cladding not banned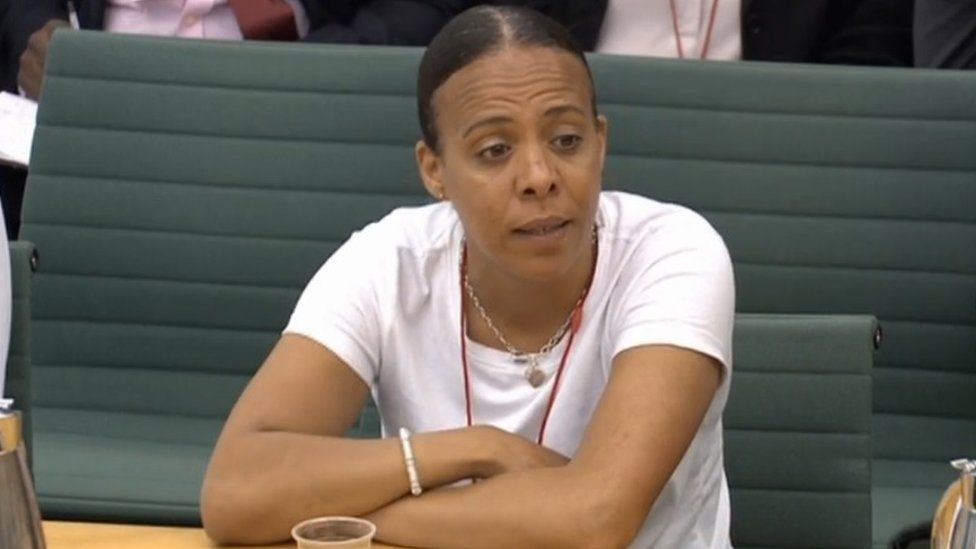 Another disaster like the Grenfell Tower fire is looming if the government does not act to ban combustible cladding, survivors have said.
Speaking to MPs on the housing select committee, they warned "Grenfell two is in the post" while it stays in use.
Cladding on the tower is thought to have contributed to the rapid spread of fire during the blaze on 14 June 2017.
The government is consulting on a proposed ban but survivor Natasha Elcock told MPs: "We shouldn't wait."
The chairman of the committee, Clive Betts, said Ms Elcock and other former Grenfell residents who had accepted the invitation to speak to the committee at the House of Commons, had delivered a "very powerful message" to government.
A total of 72 people died as a result of fire in west London.
Ms Elcock, who escaped from the 11th floor of Grenfell Tower, was giving evidence to the committee as a representative of Grenfell United, the official organisation for the bereaved families of the fire, as well as as those residents who survived.
Asked what her message was to the government on the cladding, she said: "I think it should be banned.
"No-one should go through what we've gone through, absolutely not, but also no-one should go to sleep at night knowing they've got combustible cladding wrapped round their building."
She said that while she understood some things needed to be consulted on, "things are not happening quick enough", adding: "It has been a year - a year - and it is quite evident there was something really wrong with what was put on that building.
"Our world was turned upside down 12 months ago and as survivors and a bereaved community, we shouldn't be fighting for what is right for other people.
"We will if we have to, but we shouldn't have to. It should be banned and it should be banned now. We shouldn't wait."
Also representing Grenfell United, he told the committee: "There are 300 buildings with this cladding on... [it] is a disgrace.
"Grenfell two is in the post unless you act and act quickly. The government needs to take responsibility for this, step in, end people's misery, end people's fear and act."
Jacqui Haynes, who chairs the Lancaster West Residents' Association and lived next to the tower, added: "We are all sitting here, knowing the potential of those materials, knowing after the disaster what the possibilities are, and therefore we are all culpable sitting here with that knowledge.
"How can that be? How is that a discussion?"
Mr Daffarn also told the committee of a "vast chasm of mistrust" between the residents and Kensington and Chelsea Council.
Sophie Earnshaw, from the North Kensington Law Centre, said the council "had a chance to remedy this", but instead they put "a lot of pressure" on survivors who felt they had to accept unsuitable offers of accommodation after the fire.
However, of those 203 households, around 20 still do not have a permanent home.
Tomassina Hessel, also of the Lancaster West Residents' Association, said the community were "made to look ungrateful" for turning down homes, when actually they were not suitable - including homes with views of the tower, flats on high levels and properties that had not had fire risk assessments.
Leader of the council, Elizabeth Campbell, later gave evidence to the committee and said 90% of people had accepted permanent homes - showing they felt those properties were suitable.
She told MPs: "We have really tried to give people a choice. It is not just a property, it is a home.
"We have tried to personalise it, but that has taken time.
"What we don't want to happen is for someone to feel they are forced or pushed."
She added: "We absolutely do care, we are totally committed to working with everyone… and we are committed to getting people houses as quickly as possible."
The public inquiry into the fire continued in central London earlier, with an expert saying the disaster was unlike any other flat fire because the flames spread in all directions.
Professor Luke Bisby told the inquiry that previous tall building fires abroad saw the flames going upwards, but at Grenfell, they spread both horizontally and downward.
He also said he believed the fire escaped from the kitchen of a flat on the fourth floor through a side window, before catching on the plastic at the rear of cladding panels, which were installed as part of a refurbishment to the tower.
He said he had identified a cavity behind cladding on the pillars which allowed fire to race to its top in less than 30 minutes.