Grenfell bodycam footage shows firefighters' first minutes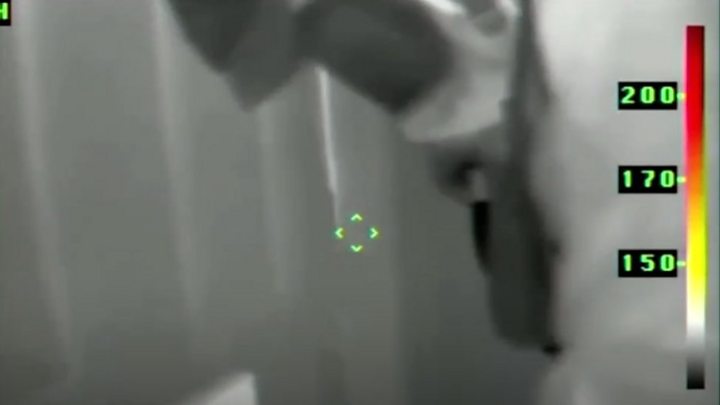 Firefighters did not get into the kitchen where the Grenfell Tower fire started until five minutes after flames had spread through the external window, the official inquiry has heard.
Crews had first entered the flat at 1:07 BST on 14 June 2017, 13 minutes after occupant Behailu Kebede rang 999.
But it was a further seven minutes before they tackled the kitchen blaze.
The kitchen's fire alarm had gone off after Mr Kebede's fridge caught fire. He and two other occupants escaped.
Thermal-imaging footage, recorded that night, showed two firefighters smashing down the door to Flat 16, then making their way through a smoke-clogged hallway for several minutes.
They then checked both bedrooms and the living room before entering the kitchen.
The flat's three occupants had already managed to leave. The inquiry heard that Mr Kebede had been sleeping on a mattress in his living room when he was woken up by the fire alarm. He shut off the electricity in the flat before he and the two female occupants, named only as Ms Kinfu and Ms Afeworki, left the premises.
A total of 72 people died as a result of the fire in North Kensington, west London.
The footage showed the firefighters tackling the blaze in the kitchen by dousing the flames with water. They then closed the door but when they reopened it, there were more flames which indicated the fire had rapidly got worse.
Forensic scientist Professor Niamh Nic Daeid, who described what was on the video, said: "The camera now swings round and looks out of the window of the flat and you can see aspects of the cladding that are coming down outside of the window.
"The fridge-freezer can be seen with the top door missing and the bottom door open."
Footage taken from outside the tower block showed the fire first reaching the block's cladding at 1:09 BST, and by the time the firefighters had dealt with the blaze in the flat, flames were advancing quickly up the building.
The fire would eventually re-enter the flat, and photos of the burnt-out wreckage in the flat were shown to the inquiry at Holborn Bars, London.
Prof Nic Daeid said further tests on the fridge-freezer, thought to have started the fire, and other electrical appliances needed to be done before a cause of the fire can be determined.