Mother and daughter jailed for terror plot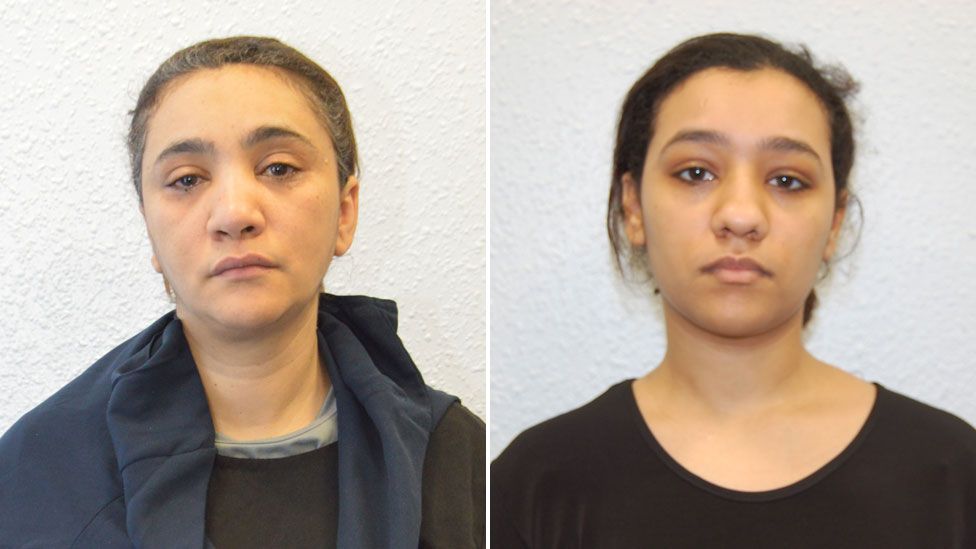 A mother and daughter, who were part of the UK's first all-female terror cell, have been jailed over a planned knife attack near the Houses of Parliament.
Rizlaine Boular, 22, who was to carry out the Islamic State-inspired attack, was sentenced to life, with a minimum term of 16 years.
Her mother, Mina Dich, 44, has been given six years and nine months at the Old Bailey for helping her daughter.
The London pair pleaded guilty to the preparation of terrorist acts.
The court heard that Dich drove her daughter around Westminster on a reconnaissance mission scouting targets.
The two later went to a branch of Sainsbury's to buy knives.
Boular was shot by police when she was arrested at a flat in Willesden, north-west London, in April last year.
Details of the incident were revealed in public for the first time in court.
The judge was told Boular and another woman had refused to comply with instructions from police to show themselves and put their hands where they could be seen.
Boular, from Clerkenwell, swore at police and moved her hand from behind a banister rail.
The court heard that an officer believed he saw something in her hand and fired three shots.
Boular made a full recovery but her barrister said she still had three bullet casings in her abdomen.
Her younger sister, Safaa Boular, 18, who lived with her mother in Vauxhall, was convicted last week of planning a separate terror attack in the area around the British Museum in central London and over an earlier attempt to travel to Syria for terrorism. She will be sentenced at a later date.
The women had discussed the attack in coded conversations about an Alice In Wonderland tea party.
Passing sentence, Judge Mark Dennis QC said Dich "failed in her parental role" to stop Rizlaine Boula and had played a "significant role" in radicalising both her daughters.
He told Rizlaine Boular she had planned a "wicked act" based on distorted views.
Defence lawyer Imran Khan QC said Rizlaine Boular had been radicalised online after being sacked from a marketing job for wearing Muslim clothes.
He said: "She knew as soon as she produced a knife in the vicinity of the Palace of Westminster police officers would swoop and kill her and that's what she wanted at that time".
Mr Khan said Rizlaine Boular had now put her past views behind her and being shot provided a "constant reminder" of what happened.
A fourth defendant Khawla Barghouthi, 21, from Willesden, admitted having information about terrorism acts and will be sentenced on 22 June.
Safaa Boular's conviction by a jury last month saw her become Britain's youngest convicted female Islamic State terrorist.
During her trial, the court heard how the then 17 year old plotted a gun and grenade attack at the British Museum.
Aged 16, Boular had been radicalised online in the wake of the 2015 Paris terror attacks.
She met IS fighter Naweed Hussain on Instagram and after three months of chatting, she declared her love for him with an online marriage ceremony.
The court heard how she had wanted to join Hussain in Syria, but her plan was thwarted when British security services became involved and confiscated her passport.
Safaa Boular went on to tell officers posing as extremists about plans for an attack and on 12 April, she was charged with preparing terrorist acts in Syria.
Despite being in custody, she continued to talk to her sister and mother about the plans using the Alice in Wonderland coded language.
Her mother and sister were arrested on 27 April 2017, the date of the planned attack, along with their friend, Khawla Barghouthi.
Scotland Yard's Deputy Assistant Commissioner Dean Haydon said: "All three women were filled with hate and toxic ideology and were determined to carry out a terrorist attack. Had they been successful, it could well have resulted in people being killed or seriously injured."