Jack Renshaw admits planning to murder MP Rosie Cooper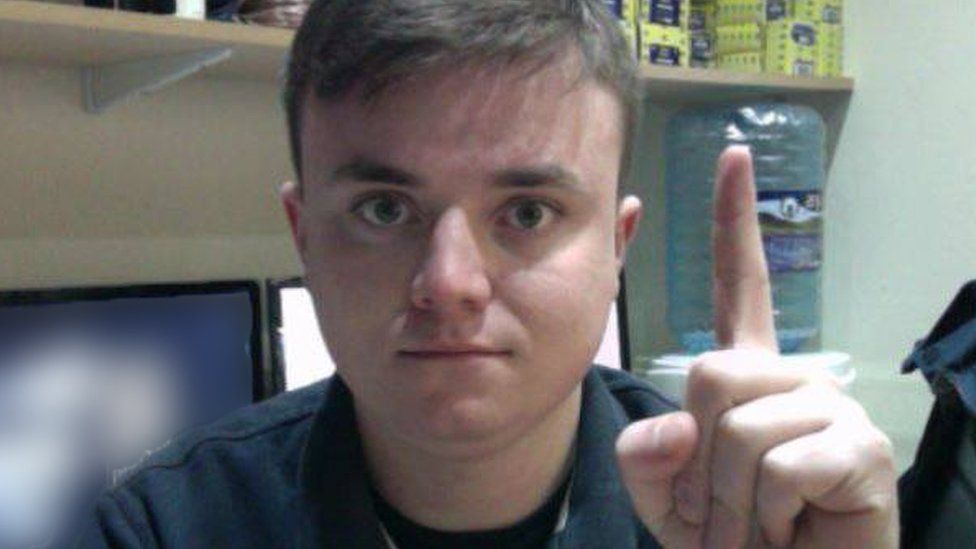 An alleged member of a banned neo Nazi group has admitted planning to murder a Labour MP in an act of what he termed "white jihad", a jury has heard.
Jack Renshaw, 23, pleaded guilty at the Old Bailey to preparing an act of terrorism by buying a machete to kill West Lancashire MP Rosie Cooper.
He also admitted making a threat to kill police officer Victoria Henderson.
Renshaw, of Skelmersdale, Lancashire, is one of six men on trial who deny being in the group National Action.
The other accused are: Christopher Lythgoe, 32, and Michal Trubini, 35, both from Warrington; Matthew Hankinson, 24, from Newton-le-Willows, Merseyside; Andrew Clarke, 33, from Prescot, Merseyside, and Garron Helm, 24, from Seaforth, Merseyside.
Mr Lythgoe also denies encouragement to murder by allegedly giving Renshaw permission to kill Ms Cooper on behalf of the group.
Renshaw had previously denied the two charges, but changed his pleas at the start of his trial.
Prosecutors said Renshaw wanted to take hostages to lure Det Con Henderson to the scene so he could kill her too.
But the court heard the plan was foiled after a disenchanted former member of National Action reported the threat to Hope Not Hate, an organisation seeking to combat extreme right-wing political racism.
Prosecutors told the jury that National Action had supported the murder of MP Jo Cox in June 2016.
Duncan Atkinson QC, said the defendants were "not being prosecuted for their racist or neo-Nazi beliefs, however repulsive they may be, but for their participation in a banned organisation that sought actively through fear, intimidation and the threat of violence rather than through free speech and democracy to shape society".
He said Renshaw was preparing a "politically and racially motivated murder", and had sought the "blessing" of Mr Lythgoe.
Mr Lythgoe, the prosecutor added, was effectively the national leader of National Action and "nothing significant" happened without his approval.
He said National Action had engaged in a "campaign of virulent anti-Semitic and homophobic propaganda" since 2013.
It was formally put on a government list of proscribed organisations in December 2016, but the defendants' active participation in the group did not stop with the ban, Mr Atkinson said.
Jurors were told that Mr Lythgoe sent an email to others members just before the ban, saying: "Long term we'll keep moving forward just as we have been" - and the next day he wrote: "We are just shedding one skin for another".
Mr Atkinson told the court that Robbie Mullen had been a member of National Action before the ban but became disillusioned with the group, particularly after the murder of Jo Cox.
Jurors heard that, on 1 July last year, at a meeting attended by most of the defendants and Mr Mullen, Renshaw said that he planned to kill Rosie Cooper.
The court heard Renshaw said he had already purchased a 19-inch (50 cm) long machete, and it was later found at his home.
Mr Atkinson said Renshaw's "objective was not simply to make a political point, as he put it to kill for National Action and white jihad, but to revenge himself on those he considered to be persecuting him", namely Lancashire Police, and Det Con Henderson in particular.
Renshaw told the meeting that after killing Ms Cooper, he would take hostages, and demand Det Con Henderson attend the scene, the prosecution claimed.
"His plan then would be to kill that officer who was, he said, his real target," Mr Atkinson told jurors."
The court heard Renshaw had been arrested in January 2017 on suspicion of stirring up racial hatred over two anti-Semitic speeches he had given.
He was interviewed by Det Con Henderson and another officer and then for a second time after analysis of a seized mobile phone "revealed what the police considered to be evidence of child sex offences or grooming".
Renshaw had talked about how police were trying to destroy his life and make it sound like he was a paedophile, prosecutor said.
He said after he had killed the officer he would commit "suicide by cop" by pretending to be wearing a suicide vest and would also make a video to say the attack had been done on behalf of National Action.
Jurors were told Mr Mullen believed Renshaw was serious and there was an imminent threat to life, and reported what had been said to his contacts at Hope not Hate.
Hope not Hate director Nick Lowles alerted the MP Ruth Smeeth - who once worked at the charity - and she in turn warned Ms Cooper, leading to the police inquiry, Mr Atkinson said.
The trial was adjourned until Wednesday.