Don't panic! Dad's Army turns 50 with set of stamps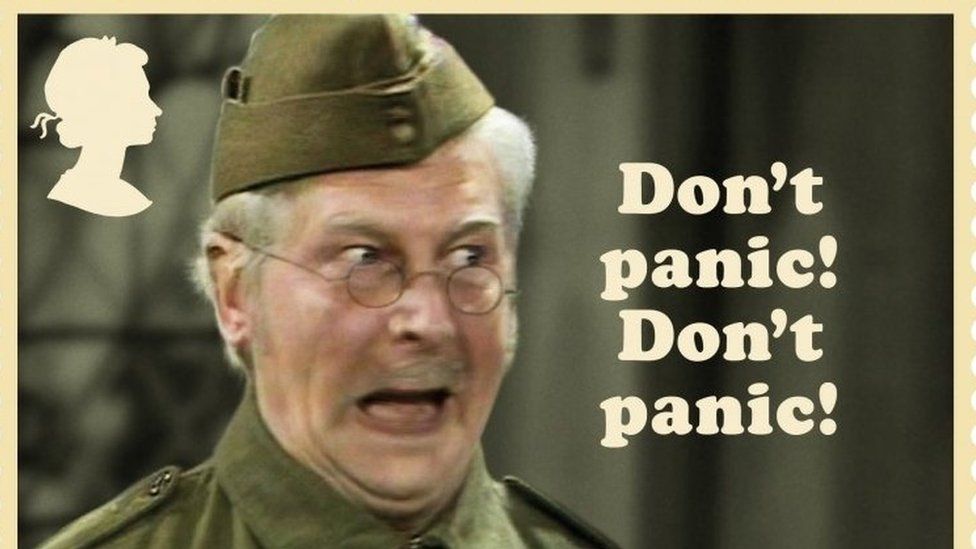 Captain Mainwaring and his comrades are to feature on a new set of stamps to mark the 50th anniversary of the classic TV sitcom Dad's Army.
The much-loved characters from the BBC comedy of the 1960s and 70s are featured alongside their catchphrases.
Philip Parker of Royal Mail, hoped they would "raise plenty of smiles".
Ian Lavender, who played Pte Pike in the series, said it was "overwhelming" to be featured on a stamp. They'll be available from 26 June.
Cpl Jones, Pte Walker, Pte Frazer and Pte Godfrey also feature in the set of eight stamps.
The hit series ran from 1968-77 and followed the antics of a World War Two home guard platoon, defending Walmington-on-Sea against a seemingly imminent Nazi invasion.
At its height, the programme attracted 18 millions viewers.
"I didn't believe you could have someone still alive on a stamp apart from the Queen. Being on a stamp is not something you hope for simply because it is so unlikely," Lavender said.
"You can hope for an OBE or a Bafta - those are things that happen. But to be on a stamp, well it really is so nice. What a lovely surprise."