World Cup 2018: Does England have the most critical media in world football?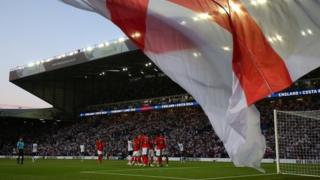 "It's unique to this country to attempt to destroy our players' morale before a major tournament. It's weird, unpatriotic and sad."
Gary Lineker made this claim in response to the media circus that surrounded Raheem Sterling last month.
Sterling was criticised by sections of the English media for having a tattoo of a gun on his leg, which he said was a tribute to his late father.
It led to an outpouring of support for the England winger on social media, with some suggesting that England "must be the only country whose players get treated like this by the media" before a World Cup.
Is there any truth to this claim?
To find out, the BBC has spent a week monitoring the news media of five countries competing in Russia 2018 that have won the tournament in the past.
This includes England (1966), the two most recent World Cup winners - Germany (2014) and Spain (2010) - the most successful country in World Cup history, Brazil (1958, 1962, 1970, 1994 and 2002) and England's classic international rival Argentina (1978 and 1986).
Two media sources were chosen for each country, with journalists noting which articles were positive and which were negative about players selected to play at this year's finals.
For every country, between 80% and 85% of articles published were neither positive nor negative - covering transfer news, fitness levels and reports about players' personal lives that were not intrusive.
So, is the English media more critical towards national team players than other countries in the run-up to the World Cup?
Spain and Brazil: The Power of Positivity
One way of measuring negativity is to investigate the opposite - the absence of positivity.
Our research showed that 14% of articles published in the Spanish media were positive about players in the national team, compared to 9% of articles in the English media.
You might say that Spain had more reason than other nations to be negative about their national team, after a 1-1 draw with Switzerland at the start of June was followed by an uninspiring 1-0 win over Tunisia on Saturday.
Yet much of the Spanish media seemed to focus on the role Iago Aspas played in the victory, with Spanish daily sport newspapers AS and Marca backing the striker to start in Russia (link in Spanish).
This sort of reaction to an unconvincing victory might explain why more positive articles were published in Spain than anywhere else - but only just.
Spain was closely followed on our list by Brazil, where hardly any negative articles were published at all.
The source of the positivity in the Brazilian media generally stemmed from articles profiling their players' strengths, with UOL Sport calling Brazil right-back Fagner (link in Portuguese) "an example of discipline" and Globo praising Willian for his relationship with coach Tite (link in Portuguese).
This comes against a backdrop of great expectation, with Globo summarising that (link in Portuguese) "the Brazilian team is responsible not only for the achievements on the field, but also for the country's success as a nation".
Despite this extraordinary weight of expectation, the Brazilian media remained positive that their players would achieve their goals.
Argentina: Individual Errors
Translation: The love of my life and I together for a bit... although visiting for less than 1 day... I love you Lucila Ahumada.
Another way of measuring the claim that the English media is more critical than elsewhere is to look for similarities across the media of other countries.
So the question becomes whether any other country would criticise a player for an innocent social media post - just as the English media focused on Raheem Sterling's Instagram post showing his tattoo.
There was one notable example of this found in the non-English media, as despite being otherwise positive about their chances in Russia, the Argentine press was briefly focused on an Instagram post of full-back Cristian Ansaldi relaxing in a hot tub.
The footballer was forced to publicly apologise (link in Spanish) for the photograph, which was heavily criticised in the media (link in Spanish) for causing fans to "foam at the mouth" with anger at him posting the photo.
England and Germany: No excuses?
The English media was found to be the most negative of the sample of worldwide sources that we looked at, with 9% of the articles deemed critical of particular players, or England's chances at the World Cup.
But perhaps surprisingly, England were closely followed by Germany, with 8% of the articles in German media seen as being negative.
The German media coverage seemed to focus on anger (link in German) at Ilkay Gundogan and Mesut Ozil appearing with Turkish President Recep Tayyip Erdogan, with Die Welt labelling Özil (link in German) "a serious problem".
Raheem Sterling continued to dominate headlines in the English media, with one Daily Mail journalist urging him to "stop diving", while The Sun called Sterling a "standout performer" - in an article with the headline "when did Raheem Sterling's dad die?".
Perhaps the most surprising outcome of this investigation was that the German and English media were very similar in the amount of coverage that was positive or critical of players.
But the negative coverage in Germany seemed to focus on political issues surrounding two players, whereas the criticism in the English media coverage was more personal. In this way, the English media drew similarities with the Argentine media's criticism of Cristian Ansaldi.
If only looking at the charts, it can be said that Germany seem to be just as critical of their players as England, so it will be interesting to see whether this impacts how the sides perform in Russia.
Additional reporting by Laura Gozzi, Claudia Plazas and Ellis Palmer.