Grenfell Tower memorial garden unveiled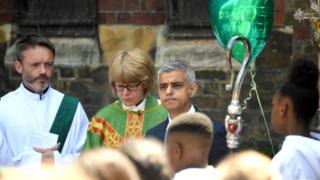 A Grenfell Tower memorial garden has been unveiled by the Bishop of London.
The garden at St Clement's Church, Notting Dale, was dedicated by the Right Reverend Dame Sarah Mullally.
The tribute comes almost a year after the tragedy in which 72 people were killed.
London mayor Sadiq Khan was among those present. In a recent letter to the prime minister, he described the government's response to the disaster as "inhumane" and "chaotic".
A Downing Street spokesperson said the government had "spent over £46m to support recovery following the Grenfell Tower fire and committed an additional £34m to support Grenfell recovery".
In his letter sent on Friday, Mr Khan said: "The institutional indifference these families have faced in the 12 months since the fire is simply unacceptable."
The government said it had been working with survivors to "rebuild their lives and to ensure they get the truth and justice they deserve".
The memorial garden stands in the in the shadow of the charred remains of the west London tower block.
The intimate garden contains shrubs, two benches and a large mosaic plaque shaped like an anchor with different religious symbols to reflect the neighbourhood's diverse community.
The ceremony was attended by survivors and those who responded to the fire and helped in its aftermath, including residents, community groups and representatives from the emergency services.
About £10,000 was paid towards the project, principally through one victim's family who wanted to remain anonymous.
Mr Khan described it as a "garden of peace, healing and justice".
He said: "The fire last year shone a light on the inequalities in our city and our country - one of the richest in the world.
"It also shone a light on the resilience and solidarity of this wonderful community."