May says G7 will act over Russia's 'malign activity'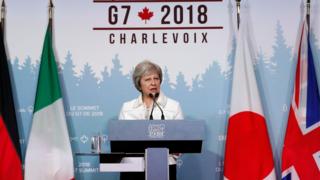 The G7 will take further action against Russia if it continues to interfere in other countries' internal affairs, Prime Minister Theresa May has said.
Leaders were sending "a clear message that such malign activity will never be tolerated" after the poisoning of the Russia ex-spy Sergei Skripal, she said.
Mrs May also said the EU would impose countermeasures after the US imposed tariffs on imported metal products.
But the prime minister warned against a "tit-for-tat" response.
Ahead of the summit in Quebec, US President Donald Trump had called for the G7 to re-admit Russia.
But Mrs May said Russia needed to "change their ways" before being invited back into the group.
Russia was expelled in 2014 in response to its annexation of Crimea.
"If there are to be any conversations about Russia's future in relation to this particular group, they have to change their ways, they have to change the route that they are taking and the sort of activity they are involved in," Mrs May said.
Relations between the UK and Russia have been under immense strain since the Salisbury nerve agent attack on Mr Skripal and his daughter Yulia in March.
Mrs May has been attempting to build an alliance against Russia while at the G7.
In her speech, she welcomed the joint communiqué by world leaders, which criticised Russia's attempts to "undermine democratic systems".
The communiqué also endorsed the UK's assessment that Russia was responsible for the nerve agent attack.
During the gathering, the US president repeated his call for Vladimir Putin to join the other leaders around the summit table.
"I think it would be an asset to have Russia back in," Mr Trump said.
"I think it would be good for the world, I think it would be good for Russia, I think it would be good for the United States, I think it would be good for all the countries of the current G7," he said.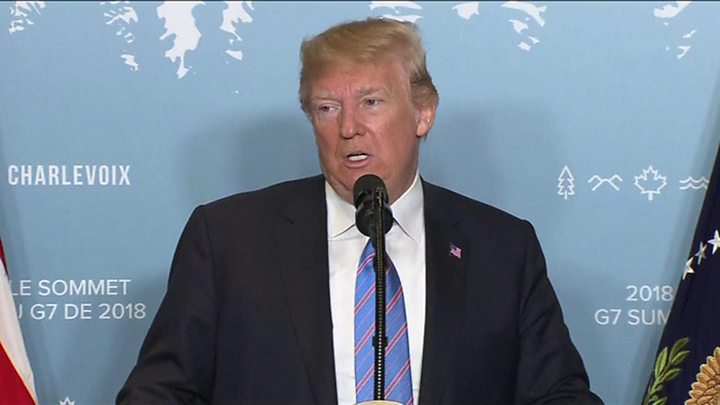 "Where we disagree with our allies on something it is right that we say so and air the issue openly and frankly," said Mrs May, speaking at the close of the summit.
"We have done just that at this summit, registering our deep disappointment at the unjustified decision by the US to apply tariffs to EU steel and aluminium imports."
Earlier this month, the US imposed a 25% tariff on steel and 10% on aluminium imports from the EU, Canada, and Mexico, with Mr Trump saying tariffs were needed to reverse America's trade deficit.
Mrs May said the EU would impose countermeasures, something Mr Trump has warned against.
The EU has already announced tariffs on US goods ranging from Harley-Davidson motorcycles to bourbon.
But the prime minister warned that we "need to avoid continued tit-for-tat escalation" and maintain a constructive dialogue.
"There have been some difficult conversations and strong debates but by working together we have agreed an outline to shape a better future," Mrs May said.