The Queen has successful cataract procedure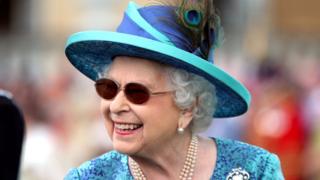 The Queen has had surgery on her eye to remove a cataract.
Cataracts are cloudy patches on the eye's lens which can cause blurred vision and eventually blindness.
A Buckingham Palace spokesman said: "I can confirm that the Queen successfully underwent a short planned procedure to treat a cataract last month."
The 92-year-old monarch had been seen wearing sunglasses at recent events, including the Royal Windsor Horse Show, but did not cancel any engagements.
The Queen was treated as a day patient at the private King Edward VII's hospital in London.
In July 1995, the Queen Mother had a cataract operation at the age of 94. A family history of cataracts can increase a person's risk of developing them.
Cataract surgery is the most common operation in the UK, and involves replacing the cloudy lens with an artificial one.
The procedure lasts 30 to 45 minutes. It can take four to six weeks for patients to fully recover.