UK weather: Rain and storms cause travel delays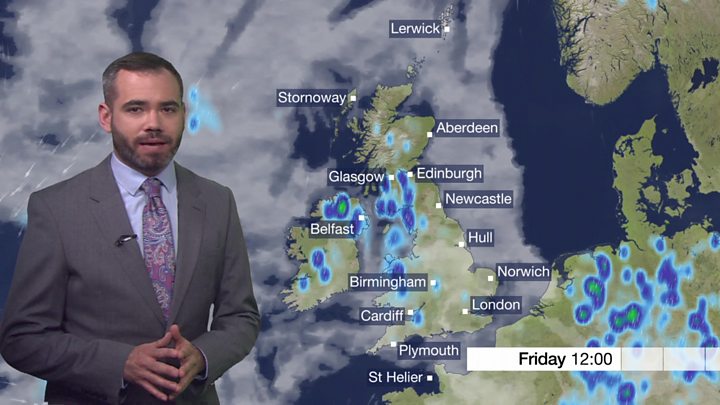 Travellers are dealing with disruption after torrential rain and flooding hit parts of the UK - with warnings of more severe weather to come.
Rail networks have been affected by the storms, and a number of roads closed.
Some flights at Gatwick have been cancelled, while several travellers said they had been "stranded" abroad.
A Met Office yellow warning for rain is in force across northern and western parts of the UK, as heavy showers are due to continue throughout Friday.
A spokesman for Gatwick Airport advised passengers to check their flight status with their airline, adding: "Due to thunderstorms and fog across Europe, we are experiencing some delays and cancellations to flights today."
British Airways also said it was was "working tirelessly" to minimise disruption, after storms caused problems for airlines on Thursday.
EasyJet cancelled 48 flights in and out of Gatwick Airport amid yesterday's bad weather, while Ryanair cancelled or delayed a "small number" of flights.
Chris Harper, from Epsom, has been trying to get home from Paris since Thursday evening, but has had two flights with EasyJet cancelled.
"Myself and 179 passengers were left stranded at the airport last night by EasyJet," he said.
He said he hoped to return to the UK on a flight on Friday night.
Meanwhile, Great Western Railway trains, which serve south Wales, and southern and western England, were earlier running more slowly than usual after Network Rail imposed a precautionary blanket speed restriction.
And there was severe disruption across the Northern rail network.
National Rail said services across central England were expected to be disrupted during the morning.
A yellow warning for rain covering much of the UK is in place until 22:00 BST on Friday.
Heavy showers and thunderstorms could cause sudden flooding, power cuts and a potential risk to life and property, the Met Office warned.
Much of the rest of the country, however, can expect warm weather and sunshine over the weekend.
Parts of Oxford experienced flash flooding overnight. Didcot Parkway station was more than a foot under water and 100 people had to be evacuated from the Old Fire Station arts centre after water started coming through the roof.
In Herefordshire, homes were flooded and lightning started a small fire at a house in Colwall.
The Environment Agency has urged people to check their flood risk - especially if they are travelling to unfamiliar areas over half term.
The organisation also said that south-west England, Hampshire and the West Midlands were most at risk, with urban areas most likely to suffer from any flash flooding later.
Kate Marks, flood duty manager at the Environment Agency, said teams would work "24/7" to operate flood defences, clear blockages in rivers and streams and offer support at incidents of surface water flooding.