Meghan, Dua Lipa and Davidson on influential women list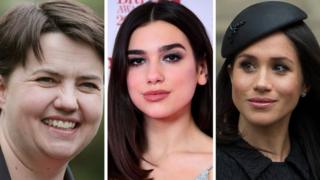 The Duchess of Sussex, singer Dua Lipa and Scottish Tory leader Ruth Davidson have been named among Britain's most influential and aspirational women.
Vogue magazine says Meghan is among "an extraordinary cast of leaders defining and redefining the way we live now".
The inaugural Vogue 25 list also includes human rights lawyer Amal Clooney and Manchester United's chief operating officer Collette Roche.
Supreme Court president Baroness Hale, 73, is the oldest woman selected.
The youngest is Lipa, 22, who won two Brit Awards this year and is described by Vogue as a "culture definer".
The fashion magazine says her hit song New Rule is an "anthem of female empowerment".
Vogue says the Duchess of Sussex, who married Prince Harry on 19 May, "captured the public imagination like no other this year" and has become one of the most recognisable women in the world.
It adds that her influence "stretches far beyond the ceaseless coverage of her style - as a bi-racial campaigning feminist from America, she is helping to forge a new 21st Century identity for the monarchy".
Ms Davidson, who became leader of the Scottish Conservatives in 2011, is described by Vogue as a "beacon, thanks to her relatable personality and progressive ideas" among a "sea of old-guard Tories".
The only politician on the list - which is not ranked in any order - the publication also cites Ms Davidson's "spectacular gains" for her party in the last Scottish elections as a reason for the inclusion.
Who are the other people in the Vogue 25?
Hannah Anderson - Co-founder of Social Chain
Maria Balshaw - Director of Tate art museums
Karen Blackett - Advertising director
Sinead Burke - Writer and academic
Carole Cadwalladr, Amelia Gentleman, Katharine Viner - Guardian journalists
Orla Doherty - TV producer and environmentalist
Vicky Featherstone - Artistic Director of the Royal Court theatre
Priyanka Joshi - Biochemist
Natalie Kingham - Buying director at Matches Fashion
Grace Ladoja - Music executive
Carolyn McCall - ITV chief executive
Stella McCartney - Fashion designer
Sue Y Nabi - Beauty innovator
Yana Peel - chief executive of the Serpentine Galleries
Antonia Romeo - Permanent secretary at the Department for International Trade