War Horse author Michael Morpurgo reveals cancer battle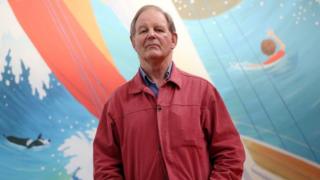 Children's author Sir Michael Morpurgo has spoken of his battle with cancer.
The renowned former children's laureate, now 74, had radiotherapy last year to treat cancer of the larynx.
He said he had "excellent prospects for a full recovery" and his voice was finding "new strength".
Sir Michael's most famous book, War Horse, about a young boy's attempts to save his horse during the First World War, has been successfully adapted for film and the stage.
He had cancelled several public appearances in September due to ill-health but the nature of his illness had not been known.
In an article for this week's Spectator magazine, Sir Michael said: "By 74 it is easy to feel that you have seen it all, done it all, that nothing much surprises you any more.
"Even an unwelcome medical diagnosis does not surprise you. You cope because you have to. You know it's what happens to us all."
Reflecting that many suffer illness earlier in life, he added: "I've been a lucky old parrot".
'Fortunate'
He spoke of how he kept himself distracted during his treatment at London's Royal Marsden, saying that "besides Marie Currie," he thought of his children, grandchildren and great-grandchild - as well as the young people he taught during 10 years as teacher.
"They were all the hope I needed, lying there in that hospital being healed. It wasn't only the radiotherapy doing the healing. It was the memories of those children too.
"They helped me through, helped me to keep hoping, keep believing. They still do, every day," Sir Michael said.
He described how his perspective changed when "suddenly the disease became central to my life at home, and to my work.
"It had to be confronted, dealt with, both surgically and psychologically."
But he said he now has time to reflect on "how fortunate I have been."