Undercover police inquiry: Report to take at least eight years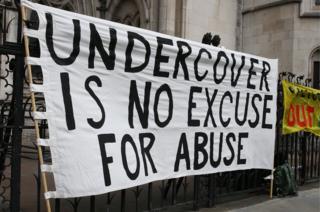 Campaigners have been left "dismayed" after it was revealed the public inquiry into undercover policing will not deliver its final report until at least 2023.
The inquiry was launched in 2015, has already cost about £10m and was originally due to finish this year.
It is investigating undercover operations in England and Wales since 1968 after a string of allegations of wrong-doing by officers.
Unite said justice was "being denied".
Gary Cartmail, assistant general secretary of the union, said the government needs to explain the delays.
The union is involved in the inquiry as Ucatt (now a part of Unite) was allegedly infiltrated by an undercover officer.
He said: "Victims of undercover policing have had their lives wrecked and yet they are still being denied answers."
A woman known as Andrea from campaign group Police Spies Out of Lives was allegedly duped into a relationship with an undercover officer.
She said she was "dismayed" at how long it would take, adding: "We have lost years of our lives due to the harm caused to us by these undercover officers."
She said: "Our health, relationships and careers have suffered.
"We want to make sure this state-sponsored abuse cannot happen again."
Donal O'Driscoll, who claims he was spied on by undercover officers, said the delay was caused by "ongoing heel-dragging and obstruction by the police".
The inquiry was set up by the then home secretary Theresa May after allegations about the activities of undercover units.
These included claims officers from the Metropolitan Police's Special Demonstration Squad had sexual relationships with women and used the names of dead children to create fake identities.
The Met Police has apologised and paid compensation to seven women tricked into relationships by undercover officers.
It will also investigate claims Scotland Yard spied on campaigners fighting for justice for murdered teenager Stephen Lawrence and how officers infiltrated unions and other organisations.
The inquiry chaired by Sir John Mitting has now set out an "ambitious timeline" with the final report expected before the home secretary in 2023.
It has tens of thousands of documents to go through and will hear evidence from at least 250 police witnesses.
In March, at least 60 campaigners and their legal teams walked out after former undercover officers were granted anonymity.
Critics also want to see the inquiry led by a panel rather than a single judge.
Writing in the strategic review, inquiry chairman Sir John rejected calls to appoint panel members until after the fact-finding stage in 2021.
He said appointing a panel would "impose a heavy cost in both time and money".
The chairman said: "Once the facts have been found, it would be both practicable and desirable for a wider panel to be recruited to investigate and consider the state of undercover policing and to make recommendations to the home secretary for the future."