Royal wedding 2018: Harry's comrades 'nervous' about role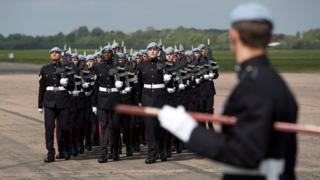 Prince Harry's ex-Army comrades have spoken of their nerves at being given a ceremonial role at his wedding to Meghan Markle.
Some of the soldiers who trained and served with Harry will have "pride of place" outside St George's Chapel in Windsor Castle.
More than 250 members of the armed forces will perform ceremonial duties at the 19 May wedding.
Prince Harry was an Apache helicopter pilot in Afghanistan in 2012.
He was known as Capt Wales while with the 662 Squadron, 3 Regiment Army Air Corps, in Helmand Province.
Twenty-three soldiers, one sergeant and one officer from the regiment will line the street outside the chapel.
Capt William Calder, 32, who will lead his soldiers in a royal salute, said he reacted with "stunned surprise" when he was told he would be going.
He said: "It makes me a little bit nervous that we will be front and centre - the Queen and the senior members of the royal family will be stepping out the door right beside us."
The officer said his family are "pretty excited".
Capt Calder said his only meeting with the prince was at a cafe at the Army Aviation Centre in Middle Wallop, Hampshire, when Harry asked if he could join the officer's table.
He said: "I knew he looked familiar, finally it dawned on me it was Prince Harry and of course he was utterly natural and charming and friendly and just like any other officer in the regiment."
Cpl Stuart Armstrong, 27, a communications specialist who worked with the prince "day-to-day" during Apache training, said it was an "honour" to be nominated and the soldiers had been busy preparing.
They will form a guard of honour for the royal couple with a half company of 25 personnel from RAF Honington in Suffolk, where the prince is Honorary Air Commandant.