Afghan interpreters should be able to stay in UK - defence secretary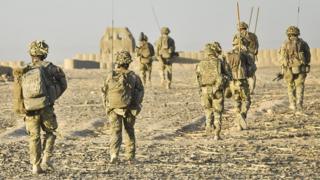 Afghan interpreters who served with British troops fighting against the Taliban should be able to stay in the UK, the defence secretary has said.
More than 150 Afghans given five-year residency permits say they face being sent back to Afghanistan when they expire, unless they pay £2,389 to apply for indefinite leave to remain.
Gavin Williamson said the Home Office should waive the fees.
The UK owed them gratitude, he said, and they had "every right" to remain.
In a letter to the Home Office and Mr Williamson - which has been seen by the BBC - the interpreters said they had been left in "limbo" and urged the government to grant them and their families the right to live in the UK.
They accused the government of preventing some of their families from coming to Britain, noting that couples who had had children since arriving were facing problems.
The group, who served on the front line in Helmand Province, also called for access to veterans' benefits, war pensions for the wounded and for interpreters left back in Afghanistan to be brought over on the same terms as those now in the UK.
Mr Williamson told BBC defence correspondent Jonathan Beale: "We've made it absolutely clear they should be staying in this country.
"We've been in touch with the Home Office making that position clear, and I'm confident that the Home Office will be supporting us to ensure that that happens as quickly as possible."
When asked if the visa fees - which many interpreters say they cannot pay - will be waived, Mr Williamson said: "That is our suggestion and we are very confident the Home Office will see the sense in what we are proposing."
The group behind the letter served with the Army in 2012 and were brought to the UK in 2014 on initial five-year residency permits.
Numerous problems have followed, however, with some complaining their uncertain status has prevented them from finding employment.
Others whose children have been born in the UK are struggling to obtain documentation for them - and may have to pay £1,200 to apply for an Afghan passport and then a British visa.
Many interpreters fear their ties to the British forces will endanger them if they return to Afghanistan, with one telling the BBC he believed he would be killed by the Taliban.
The defence secretary added that he had "no doubt" the matter would be resolved swiftly.
The BBC has contacted the Home Office for comment.