Anzac Day: Royals lay wreaths to remember war dead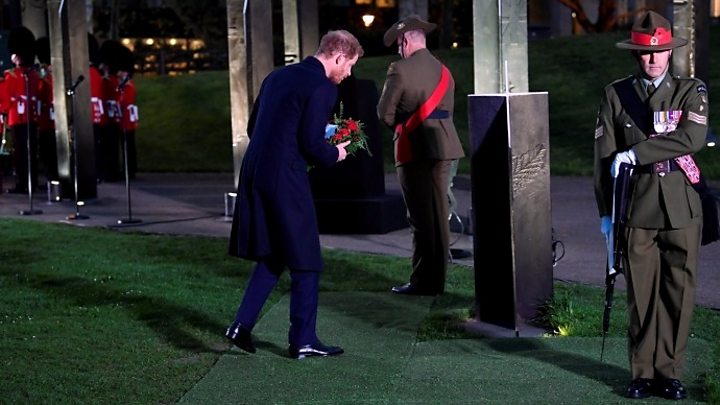 Prince Charles and Prince Harry have marked Anzac Day by laying wreaths at separate services to pay tribute to Australia and New Zealand's war dead.
The day also commemorates the first major battle involving Australian and New Zealand forces in World War One.
The Prince of Wales attended a traditional dawn service at Villers-Bretonneux in France.
Meanwhile, Prince Harry was joined by his fiancée Meghan Markle at Wellington Arch in London's Hyde Park Corner.
Thousands of men of the Australian and New Zealand Army Corps (Anzacs) died during the failed Gallipoli landings in Turkey in 1915, which aimed to take control of the Dardanelles waterway - a key route to the Black Sea and Russia.
Prince Charles is attending the commemorations on behalf of the Queen.
During the dawn service at the Australian National Memorial, the prince gave a reading to mark 100 years since a battle in which some 2,400 Australians were killed.
In April 1918, troops alongside British personnel helped to recapture the French town from German forces in the Battle of Villers-Bretonneux.
He read a diary entry from Australian Private Frank Purnell which contained descriptions of life in the trenches and of other service personnel he had met.
More than 8,000 people, including Australian Prime Minister Malcolm Turnbull and French Prime Minister Edouard Philippe, attended the service where traditional wartime music was performed, including music from an indigenous didgeridoo player.
The prince later met members from 17 countries who fought on the Western Front and two Australian Football League players.
He was given a personalised sports top with "Wales 70" written on it to mark his upcoming 70th birthday.
Meanwhile in London, Prince Harry and Ms Markle were welcomed to a ceremony in Hyde Park with a traditional Maori greeting called a hongi - the pressing of noses and the sharing of one another's breath.
The service also included a performance of the Maori war cry - the haka - famously seen by New Zealand's All Blacks rugby team.
Prince Harry, who spent a decade in the armed forces, left a handwritten note on his wreath to the fallen soldiers.
It said: "For all those who have made the ultimate sacrifice in pursuit of our freedom. Thank you. Harry".
He later laid another wreath at the Cenotaph, along with Defence Secretary Gavin Williamson and Foreign Secretary Boris Johnson.
Schoolchildren read prayers and the Last Post was played before all took part in a minute's silence.
Sir Jerry Mateparae, the high commissioner of New Zealand, said Ms Markle was "very interested" in the service.
"It's her first Anzac service so we were explaining what it meant to us and the Australian memorial," he said.
The couple then attended a service at Westminster Abbey, where they were joined by the Duke of Cambridge.
Speaking at the service the Very Reverend Dr John Hall, Dean of Westminster, called for a renewed commitment to global peace and justice on a day when countries remember "one of the bloodiest battles" of World War One.
"Australian and New Zealand forces joined together for the first time, and a new word entered the language: Anzac.
"Remembering that so many died, we honour the bravery and determination of the men at Gallipoli. The memory of what became known as The Great War is with us as a warning and an encouragement."
The first time Anzac Day was commemorated in the capital was when King George V attended a Westminster Abbey service in 1916, a year after the landings at Gallipoli.