Euromillions: UK ticketholder scoops £121m jackpot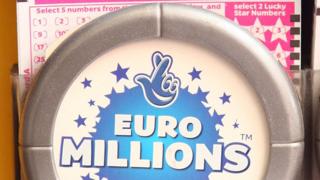 A UK Euromillions ticket-holder has become the country's third biggest lottery winner of all time, after scooping a jackpot of more than £121m.
Tuesday's winning numbers were 20, 23, 28, 30, 44, with Lucky Stars 03 and 07.
The biggest lottery prize in UK history is the £161m Euromillions jackpot won by North Ayrshire couple Chris and Colin Weir in 2011.
In August 2012, Adrian and Gillian Bayford, from Haverhill, Suffolk, won more than £148m.
Euromillions is played in nine countries - the UK, Austria, Belgium, France, the Irish Republic, Luxembourg, Portugal, Spain and Switzerland - with ticket-holders trying to win a share of the same jackpot.
The total Euromillions jackpot on Tuesday was £121,328,187, UK lottery operator Camelot said.
Previous winners
Previous winners of the Euromillions jackpot include a couple from Largs in Ayrshire.
Chris and Colin Weir won the £161m prize, which was one of Europe's biggest, in July 2011.
Mr Weir described the win as "a dream".
"When we first realised we had won, it felt like a dream," he said at the time. "Everything went into slow motion."
"The next steps are going to be the most difficult... with great wealth comes great responsibility," added Mr Weir.