Cliff Richard case: Editor has 'no concerns' over helicopter footage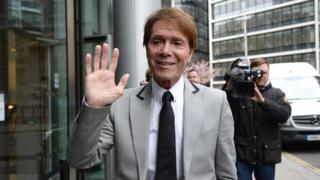 A BBC editor has told the High Court he has no concerns about the airing of helicopter images of Sir Cliff Richard's flat during a police search.
Jonathan Munro said the footage had not been referred to him before it aired on the day of the search in August 2014.
Sir Cliff is suing the BBC for naming him and broadcasting the footage of his flat in Berkshire during a sexual assault inquiry into the singer.
He says broadcasting the images was a "very serious invasion" of privacy.
Sir Cliff, who denied the allegation, was not arrested or charged.
Mr Munro, the BBC's head of newsgathering, told Mr Justice Mann: "No referrals were made to me about any helicopter images."
He added that he had watched the helicopter images while writing a witness statement and said: "I do not have any concerns about the broadcasting of these images."
Sir Cliff's barrister, Justin Rushbrooke QC, asked Mr Munro if he thought it had been acceptable to fly a helicopter over a private estate to "spy" on the singer's home.
Mr Munro said he would not use the word "spy", and added he thought it was acceptable to film police searching the home of someone under investigation.
Mr Rushbrooke said: "If that is your genuine belief I suggest to you that you are unfit for your job."
Mr Munro said he believed there was a public interest in seeing the police search in the wake of several high-profile allegations of sexual abuse.
"For the public it is important to be able to see what is happening on a given event," he said.
He added he did not believe the helicopter was trespassing.
Earlier the court heard from Gary Smith, the BBC's UK news editor at the time. He said the corporation would not have run a story about Sir Cliff being investigated by police if it had not been for the search of his home.
"I think the search element was very important to us," he said.
"For us to have published a story before [police] had done anything could easily have affected their investigation."
When asked if the BBC would have run the story without the police search, he said: "No.
"I would have wanted to wait for something actually happening, whether it was a search, or questioning or an arrest if it had come to that, rather than publishing a story just on the strength of knowing there was an investigation going on."
Sir Cliff claims he suffered "profound and long-lasting damage" from the coverage. He is suing the BBC over the misuse of private information and breaking data protection rules.
The BBC disputes his allegations. It says the BBC report on the police inquiry was in the public interest.
In 2014 South Yorkshire Police searched Sir Cliff's flat in Sunningdale, Berkshire, while investigating an allegation the singer sexually assaulted a boy under the age of 16 in Sheffield in 1985.
In June 2016 it was announced he would not face any charges.
South Yorkshire Police has settled its own case with Sir Cliff by paying him £400,000 and argues that the BBC should pay a share of this because its actions were "far more causative of the damage suffered".