The newborns who share birthday with royal baby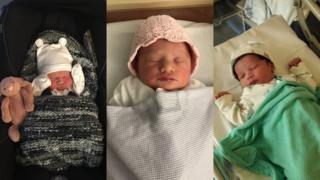 Three women talk to the BBC about their babies, born early on Monday morning.
Following in their footsteps, the Duchess of Cambridge gave birth to a boy at 11:01 BST, weighing 8lb 7oz.
All three non-royal mothers are feeling well and are delighted with their new babies.
Jessica Mason gave birth to Louis at 01:27 BST on Monday, a few days before his due date.
"We welcome to the world our first baby," Jessica said.
"Louis was born weighing 7lb 15oz in the early hours of this morning.
"I used gas and air. My labour lasted five hours and 30 minutes.
"We are doing well, and everyone is celebrating with traditional tea and cake.
"I'm OK - just sore and tired, but it's so worth it."
Steph Gill, 30, gave birth to Isabelle Heidi Smith, in Durham.
"I'm fine. It was very quick", said Steph.
"It's my second baby, you see. I only used gas and air.
"We kept the gender a surprise.
"My little boy, Charlie, chose the name a while ago. He knew she would be a girl."
Steph, her partner, Dan, and baby Isabelle are already at home with Charlie and adjusting to life as a family of four.
Jas gave birth to baby Shaan.
"I'm feeling tired but so happy to have Shaan with us," Jas told the BBC.
"He is our second baby.
"There's only a 16-month age gap between them, so we will have our hands full with two boys under two.
"Luckily we live with the grandparents, who are a great help to us."
Shaan was three days overdue.
But Jas said: "He couldn't have chosen a more perfect day to be born. He's our beautiful little prince."
Bryony Bathie, from London, was also expecting her first child on Monday.
"I will name her Arielle," Bryony said.
"She will be born in Leytonstone.
"I'm feeling nervous but very excited at the same time.
"I also feel very honoured to potentially share the same due day as Kate."
Bryony was planning to eat a spicy curry on Monday, which she hoped would get things going.