Cliff Richard privacy case: BBC editor defends report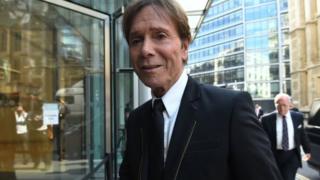 The BBC might have faced criticism had it not reported that Sir Cliff Richard was being investigated by police, a senior editor has told the High Court.
Gary Smith said the singer's fame meant the BBC could have been accused of not reporting a matter of public interest.
He said inquiries into Jimmy Tarbuck, Max Clifford and Rolf Harris had been reported without any legal complaint.
Sir Cliff is suing the BBC for naming him and broadcasting helicopter footage of police searching his flat in 2014.
The footage was broadcast on the day as part of a report on South Yorkshire Police's sexual assault inquiry into the singer.
He was not arrested or charged.
Charitable work
Mr Smith, who was the BBC's UK news editor at the time, said: "Sir Cliff Richard would have been the biggest household name to be under investigation.
"I say this in the sense that he was and is a high profile public figure whose public status went beyond his success as an entertainer.
"He was known for his charitable work and was 'part of the establishment' in many ways."
Mr Smith said he did not feel that using a helicopter to film police searching Sir Cliff's home was "disproportionate" and the decision to use it was "made along usual reporting lines".
He said he accepted that its use was an "intrusion" into Sir Cliff's privacy, but added that a balance had to be struck with public interest.
"I'm saying there was a strong public interest in having pictures of what was happening inside the gated complex," he told the judge.
Mr Smith, who is now the BBC's head of news and current affairs in Scotland, said without the helicopter, they would have had to rely on what they were told by South Yorkshire Police.
"One of the key principles of newsgathering is to try to find out for yourself what's happening." he said.
Editorial discussions
In a written statement read to the court on Monday, Mr Smith said one consideration had been whether it would have been right to withhold information.
"These discussions took place against the backdrop of (the) history of the Jimmy Savile allegations and knowledge within institutions which had not been made public," he said.
"An important factor in the editorial discussions about naming individuals who were the subject of police investigations was the issue of the media not reporting information it knew to be correct."
Mr Smith said editors had thought it right to name Sir Cliff because the BBC was confident it knew who the individual under investigation was.
He named DJ Paul Gambaccini, comedian Jimmy Tarbuck, presenter Rolf Harris and the late publicist Max Clifford as examples of celebrities who faced investigation that the BBC had reported on without legal complaint.
Mr Tarbuck and Mr Gambaccini were arrested but not charged, while Harris and Clifford were convicted of sexual offences, he said.
Private communication
The court also heard the BBC sent reporters to Portugal and Barbados - where Sir Cliff owns homes - ahead of the police search of the singer's home in Sunningdale, Berkshire.
Mr Smith denied the journalists were sent there to "doorstep" the singer.
"If there was the possibility of an interview, we would have needed to be in the appropriate place to do it, which is why we deployed people there," he said.
Mr Smith said it was not a matter where they would have sought Sir Cliff's consent to run the story.
"The media's public interest reporting often involves telling the public something that a public figure would prefer the public not to hear," he said.
Mr Smith also denied having an "exclusive" was his "principal preoccupation" and said he regretted sending an email to a colleague in which he quoted lyrics from Sir Cliff's hit song Congratulations.
After being told a BBC reporter had received a tip-off that police were investigating the singer, Mr Smith wrote: "Congratulations and jubilations, I want the world to know I'm happy as can be."
Mr Smith told the court it had been a private communication that was not meant for publication.
The singer claims he suffered "profound and long-lasting damage" from the coverage. He is suing the BBC over the misuse of private information and breaking data protection rules.
The BBC disputes his allegations. It says the BBC report on the police inquiry was in the public interest.
Lawyers for the corporation say its coverage was accurate and in good faith, and journalists had respected Sir Cliff's "presumption of innocence".
The allegation against Sir Cliff was made in late 2013 and was passed on to South Yorkshire Police by the Metropolitan Police in July 2014.
The man alleged that Sir Cliff assaulted him during an event at Sheffield United's Bramall Lane football stadium in 1985.
Sir Cliff denied the allegation and in June 2016 it was announced he would not face any charges.