Skripal poisoning: Salisbury toxic hotspots clean-up begins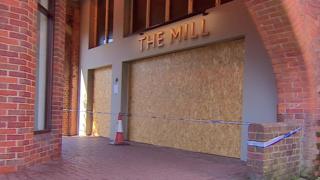 Nine locations in Salisbury which are to be decontaminated following the poisoning of an ex-spy and his daughter have been surrounded by new barriers.
The Mill pub and Zizzi restaurant are among the places deemed to be still at risk by government scientists.
But officials say the city remains "safe for residents and visitors" and extra precautions need not be taken.
The nerve agent Novichok is believed to have been used in liquid form to target Sergei and Yulia Skripal last month.
Former Russian double agent Sergei Skripal and his daughter Yulia were found unconscious on a bench in the Wiltshire city on 4 March.
The British government says a military-grade Novichok nerve agent of a type developed by Russia was used in the attack, although Moscow denies any involvement.
The multi-million pound operation to decontaminate the locations is expected to take months.
Officials from the Department for Environment, Food and Rural Affairs (Defra), as well as council, police and health representatives, updated Salisbury residents on Thursday evening.
Asked whether the chemical remained at a "lethal" level, Defra's chief scientific adviser Ian Boyd said it was still present at "hotspots" around the city.
"We have to make an assumption that in certain circumstances there will be relatively high concentrations, probably in very, very specific locations, which could be at levels that could be toxic to individuals."
"We already know there are some high concentrations within those locations," he said.
'Protecting the public'
But on Friday, a Defra spokesperson urged people not to be concerned: "As PHE (Public Health England) have stated, Salisbury is safe for residents and visitors.
"All work undertaken on each site will take appropriate measures to ensure that there is no additional risk to the public."
They added that there was "no need to take any additional precautions", with cordons in place "to protect the public from any potential risk".
More robust hoardings have begun to replace police cordons around the Maltings area in the city centre, the Zizzi restaurant and the Mill pub.
Residents were told the Bourne Hill building, home to Salisbury's police station and Wiltshire council's offices, will close for up to eight weeks from Friday.
The evidence room and two lockers inside the station, sealed off after the 4 March attack, will be decontaminated.
Deputy Chief Constable Paul Mills said it would be "business as usual" because they have moved to other sites in the city.
The view from Salisbury
By John McManus, BBC News
Strolling by the river Avon in the centre of Salisbury in the sunshine, it's hard to imagine a stranger location for the international intrigue that's unfolded here since March.
But the evidence for what's happened here is stark - in The Maltings area, hoardings went up overnight, replacing police tape.
Wiltshire Council has acknowledged the hit that businesses here are taking. One B&B owner says she's had no bookings for weeks. And many traders say day visitors- in particular Americans who often stop en route to Stonehenge - have disappeared. Some hotel bookings, though, appear to have held up.
But Salisbury won't be back to normal for several months. Locals are looking forward to getting their city back - and seeing the back of people like me.
Other areas that will be decontaminated include two ambulance stations, a car compound and the home of Det Sgt Nick Bailey, who was left seriously ill after responding to the attack.
Mr Skripal's home - where the highest concentration of military grade Novichok was found - will be the last site to be decontaminated.
Yulia, 33, left hospital earlier this month. Her 66-year-old father is said to be recovering more slowly but is expected to eventually be discharged.
The nerve agent does not evaporate or disappear over time, experts have said, and intense cleaning with caustic chemicals is required to get rid of it.
Almost 200 military personnel will help with the decontamination work, which is expected to cost millions of pounds.
The Russian ambassador to the UK, Alexander Yakovenko, said the "so-called decontamination" was a means for destroying valuable evidence.
He also claimed that the nerve agent must have been injected into the Skripals before investigators took blood samples from them.
What are Novichok agents?
The name Novichok means "newcomer" in Russian, and applies to a group of nerve agents developed by the Soviet Union in the 1970s and 1980s.
Novichok's existence was revealed by chemist Dr Vil Mirzayanov in the 1990s, via Russian media. He says the nerve agents were designed to escape detection by international inspectors.
Novichok agents are liquids, although others are thought to exist in solid form and could be dispersed as an ultra-fine powder.
Some of the agents are also said to be "binary weapons", meaning the nerve agent is typically stored as two less toxic chemical ingredients that are easier to handle.
When these are mixed, they react to produce the active toxic agent which can cause convulsions, shortness of breath, profuse sweating and nausea.