Commonwealth meeting: Leaders discuss who will succeed Queen as head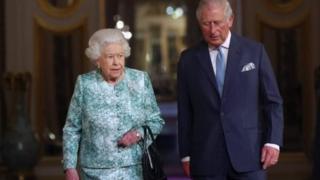 Commonwealth leaders are meeting behind closed doors to discuss whether the Prince of Wales should succeed his mother as head of the 53-nation body.
On Thursday the Queen endorsed Prince Charles as future leader at the Commonwealth Heads of Government Meeting (CHOGM) at Buckingham Palace.
She said it was her "sincere wish" that he takes over "one day".
But the role is not hereditary and will not pass automatically to the Prince of Wales on the Queen's death.
The leaders are expected to approve the move when they meet at Windsor Castle, but there has been no confirmation on whether there will be an announcement following the meeting.
BBC diplomatic correspondent James Landale said there had been some suggestions that the position should be rotated around member states.
Meanwhile, South African President Cyril Ramaphosa has cut short his attendance at the summit in London to deal with violent protests at home.
Clashes have taken place in North West province where protesters are demanding jobs, housing and an end to corruption.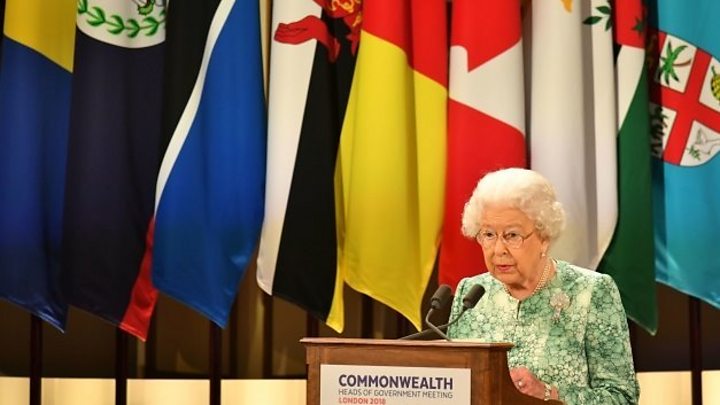 Opening the summit on Thursday, the Queen said: "It is my sincere wish that the Commonwealth will continue to offer stability and continuity for future generations, and will decide that one day the Prince of Wales should carry on the important work started by my father in 1949."
The body's outgoing chair-in-office, Maltese prime minister Joseph Muscat, told delegates: "We are certain that, when he will be called upon to do so, he will provide solid and passionate leadership for our Commonwealth."
What does the head of the Commonwealth do?
The role, currently held by the Queen, is largely a symbolic one and carries no maximum fixed term.
It is used to unify the 53 member states and to ensure the core aims of the Commonwealth are fulfilled. These include linking the countries through trade and international co-operation.
The head of the Commonwealth usually makes regular visits to the member states to foster these connections personally.
A decision on all successive heads has to be made by the Commonwealth leaders.
Meanwhile, the Commonwealth Secretary-General and the Secretariat, its central organisation, help to plan many Commonwealth activities.
Sources: The Royal Family, The Commonwealth
Prime Minister Theresa May and Canadian PM Justin Trudeau have given their backing to Prince Charles.
Other issues under discussion at the two-day summit include ocean conservation, cyber security, and trade between the countries.
The ceremony is being attended by 46 Commonwealth heads of government, out of the 53 member states, with the remaining attendees being foreign ministers.
The Commonwealth represents about 2.4bn people, but critics say the organisation is so disparate that it struggles to know what it is for, BBC royal correspondent Jonny Dymond said.
---
What is CHOGM?
The Commonwealth Heads of Government Meeting - or CHOGM - usually takes place every two years
It is attended by presidents and prime ministers from across the 53 member nations - as well as their family members, lobbyists and journalists
This year it is held in London and the previous meeting - in 2015 - took place in Valletta, Malta
The latest CHOGM was due to take place in 2017 on the Pacific island nation of Vanuatu - but Cyclone Pam devastated the country two years earlier
At the end of two days of deliberations, the leaders usually agree a communique on a major issue
---