Cancer: Is it a good move to ditch Dr Google?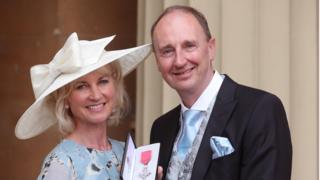 When a cancer diagnosis is given, the first impulse is to get as much information as possible on the disease. But does a frantic Google search do more harm than good?
You could go Google cold turkey, as Emma Agnew and her husband - the BBC's cricket correspondent Jonathan Agnew - chose to when she was diagnosed with breast cancer.
Talking to the BBC podcast You, Me and the Big C, the sport commentator said he and his wife made a deal not to look anything up on the internet.
Explaining their decision he said: "There is so much stuff out there that you can't even begin to understand."
"And there's so much rubbish," he added.
"We just went to our people and they looked after her and that was it."
The podcast - hosted by Rachael Bland, Deborah James and Lauren Mahon - was hearing from the relatives of those with cancer.
Rachael Bland's husband Steve said he wished his wife had followed the Agnews' example.
He said it becomes a problem "if you go online and try and interpret it yourself with very little knowledge".
Lauren's brother, Ryan, said his sister also turned to the internet: "Her whole job was social media - she was online straight away, looking up everything."
Jonathan Agnew admitted that although he stuck to the no-google deal he wasn't certain if his wife had.
Writer Alice-May Purkiss took a different approach.
She was diagnosed with cancer in 2015 at the age of 26 and started a blog about her experience.
"I was given an abundance of information from my hospital," she recalls but added that much of it was targeted at older women.
"I did use Google to search for younger women in a similar situation to me," she says.
She also found the internet useful for "the things that hospital literature doesn't provide" such as survival statistics.
'Frantically googling survival statistics'
She says it's important to google with care, look at everything with a critical eye and check the source of the information.
"Don't do it when you're feeling volatile or low or if you're struggling with what's happening to you," she advises.
"That's the time to think about protecting your brain, not barraging it by frantically googling survival statistics because you'll be sucked into a hole that you don't need to be in."
However she believes the internet can also be a helpful resource.
"It provides a place to not feel alone at the most isolating time of your life," she says.
Ultimately, however, her advice is: "Trust in the doctor's expert knowledge, because they've got your back."
Medical officer at Macmillan Cancer Support Professor Jane Maher says: "It's understandable that people will turn to the internet for information, but it can add stress to a difficult situation because you're having to sift through unconfirmed statistics and information from potentially dubious sources.
"Macmillan has recently appointed a Digital Nurse specialist so people affected by cancer have a real person they can turn to online for information about their symptoms, cancer diagnosis and treatment."