Where have the UK's 10,000 Syrian refugees gone?
By Mark Easton & Ben Butcher
Home editor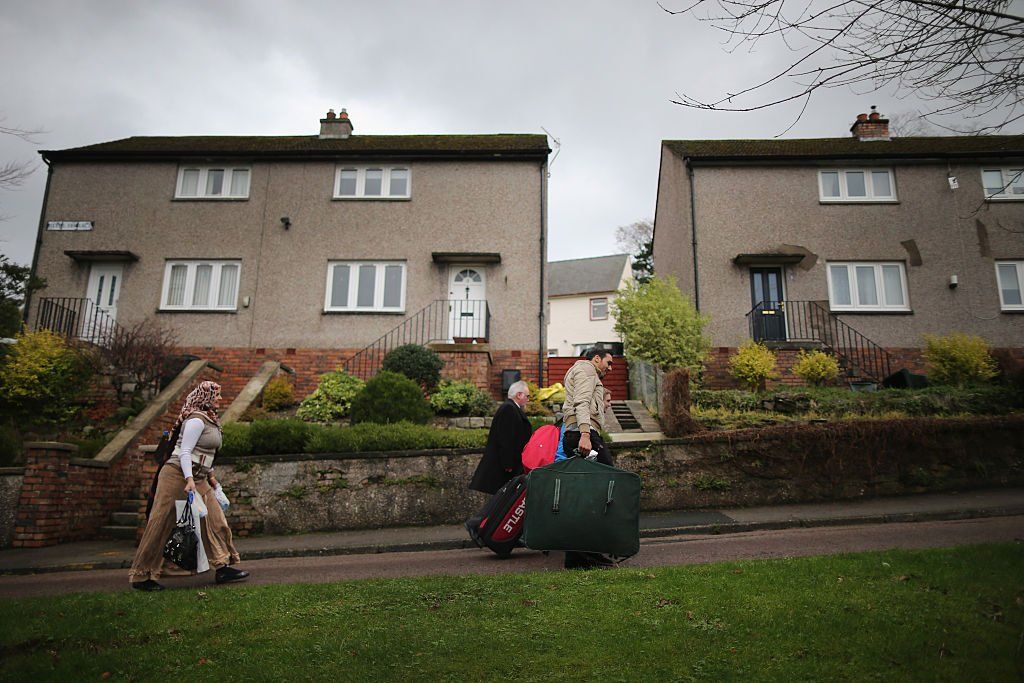 The UK has accepted more than 10,000 Syrian refugees in the past two and a half years - but analysis by the BBC shows large disparities in the numbers going to different parts of the country.
Scotland has taken four times as many Syrian refugees as Greater London, while Northern Ireland has taken over 300 more than the whole of the east of England.
Relative to their populations, northern England has taken over twice as many Syrian refugees as the South.
Overall, almost a third of local authorities are yet to take any Syrian refugees.
The BBC analysis looks at the Home Office's breakdown of local authority intake of Syrian refugees and weighs this against the population size.
It was the pictures of three-year-old Alan Kurdi, his tiny body washed up on a Turkish tourist beach in September 2015, that changed the politics of Syrian refugees.
Within days of the distressing photographs appearing in Britain's newspapers, Prime Minister David Cameron announced the UK would take up to 20,000 people who had fled the war in Syria and were now at camps in Lebanon, Turkey, Iraq, Egypt and Jordan.
"It is absolutely right that Britain should fulfil its moral responsibility to help those refugees," Mr Cameron told the House of Commons, adding that Britain would "continue to show the world that this is a country of extraordinary compassion always standing up for our values and helping those in need".
Given that, why is it that some parts of the UK have taken more Syrian refugees than others? Why, for example, has only one refugee found a home in the local authorities of Northamptonshire while 226 have ended up in Nottinghamshire?
Councils are under no obligation to accept Syrian refugees. If they do offer to take some, in the first year all their resettlement costs are covered by central government. After that, the money tapers off - £5,000 in the second year and down to £1,000 in year five.
The government set up the Syrian Vulnerable Persons Resettlement Scheme (SVPRS) promising "equitable distribution", but fairness in these matters is hard to define.
Top five intake of Syrian refugees relative to population:
Clackmannanshire, Scotland
Gateshead, England
Argyll and Bute, Scotland
Hartlepool, England
Pendle, England
Bottom five intake of Syrian refugees relative to population:
Manchester, England
Croydon, England
Enfield, England
Bromley, England
Wigan, England
The statistics suggest that two of the poorest regions in England, Yorkshire and the North East, have taken three times as many refugees relative to the population as the two wealthiest regions, London and the South East.
Areas not often associated as migration "hotspots" such as Scotland's Clackmannanshire and Comhairle Nan Eilean Siar - the Western Isles - have taken some of the highest numbers of refugees - over nine per 10,000 of their population.
But in areas with huge demand for local authority housing, those in the queue for a council house are more likely to resent accommodation being given to new arrivals ahead of local people. Is it fair to send large numbers of refugees to these places?
Although there is more money to support Syrian refugees than asylum seekers generally, the costs of housing someone in the South East of England are still greater than the North East. Is it reasonable to expect places with sky-high rents potentially to spend more on refugees where there are no regional adjustments in funding?
The Local Government Association says that councils have had "an excellent track-record" in welcoming refugees and ensuring they have suitable support based on their experiences.
"Clear links need to be made across all the programmes that resettle asylum seekers and refugee families and children to make sure there is enough funding and capacity for all new arrivals to build new lives in their new communities."
The number of Syrian refugees taken in by local authorities should not be looked at in isolation. Over the years some parts of the UK have taken many more asylum seekers than others.
This raises the question of whether they should be asked to carry the additional responsibility for Syrian refugees.
At the end of last year, there were just over 40,000 asylum seekers located across the UK. Asylum seekers are from around the world and must reach the UK before claiming asylum, unlike those on the SVPRS.
Once you have claimed asylum, the Home Office will determine whether you qualify for refugee status. Until then, asylum seekers are dispersed across the UK and offered some financial support.
Local authorities have less involvement in housing asylum seekers as this is contracted to the private sector, but they must volunteer to house them in their area and have a say in implementation.
Combining the Syrian refugee scheme and asylum seekers statistics shows that while places such as Liverpool and Newcastle have accepted more than 15 people per 10,000 people, 120 local authorities have accommodated less than one for every 10,000 in the local population.
While London has accommodated relatively few Syrian refugees (less than one per 10,000 population), it has accepted 10 times that number of asylum seekers with an overall impact of six per 10,000 people.
Similarly, the local authorities that make up Greater Manchester have taken just 15 Syrian refugees (in Trafford and Tameside), but act as one of the largest suppliers of support for refugees and asylum seekers - 25 per 10,000 population.
It appears that Scotland has generally embraced its claim to be a "sanctuary" for those fleeing conflict. Glasgow has taken 63 refugees and asylum seekers per 10,000 in the city - the highest level in any local authority.
Concerns over unequal dispersal are not new. Last year, a Home Affairs Select Committee report said: "The policy of dispersal was introduced to deliver an equitable distribution of asylum seekers across the UK. It has failed to achieve this.
"Pressure on the South East of England may have been alleviated, but it has been replaced by the clustering of asylum seekers in some of the most deprived parts of the country."
Forty-six English local authorities have given a home to none at all, and 20 of those councils are in East Anglia and the Fens.
Top five intake of Syrian refugees and asylum seekers relative to population:
Glasgow, Scotland
Rochdale, England
Barking and Dagenham, England
Swansea, Wales
Middlesbrough, England
Bottom five intake of Syrian refugees and asylum seekers relative to population:
Huntingdonshire, England
Chelmsford, England
Maidstone, England
South Cambridgeshire, England
Kings Lynn and West Norfolk, England
A research study for the United Nations High Commissioner for Refugees found that UK councils' decision to accept people under the SVPRS was based on a number of considerations:
the vulnerability of the refugees
the availability of suitable housing, schools and NHS services
the risks in relation to safety and community cohesion
A Home Office official said: "We are grateful for the ongoing support from the over 270 local authorities across the UK who are helping to resettle refugees fleeing the brutal conflict in Syria.
"Local authority participation in the Vulnerable Persons Resettlement Scheme is voluntary and we work closely with councils across the country to ensure that no area is asked to take more than they are able to cope with."
The Home Office also notes that the government is the second largest donor in humanitarian assistance and has pledged £2.46bn in UK aid to Syria and the neighbouring countries, its largest ever response to a single humanitarian crisis.