UK enjoys warmest day of the year so far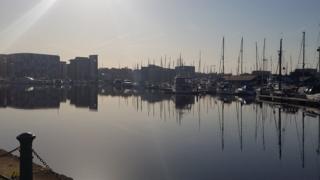 After the winter that never seemed to end, the UK has enjoyed the hottest day of the year so far, with temperatures of 25C (77F) recorded in Gravesend, Kent, and central London.
The average maximum temperature for April is just 14C.
A combination of low pressure over the Atlantic and high pressure over western Europe has pulled warm air from the archipelago of the Azores to the UK.
Temperatures of up to 26C are predicted on Thursday.
However, the very warm weather is not expected to last and temperatures look likely fall at the beginning of next week.
Wednesday brought warmth across the country, with 21.2 C recorded in Plymouth, 21.8C in Cardiff, 19.7C in Kinloss, Moray, and 18.7C in Derrylin, Co Fermanagh.
Oli Claydon, from the Met Office, said: "This is the first bout of real warm sunshine that we've seen."
He also had a warning for the public: "The sun at this time of year is nearly equally as strong as it can be in the summer, so people just need to be cautious of that and make sure that they do look after themselves."
Sunday's London Marathon could be the hottest on record, passing the previous record of 22.2C in 1996 and 2007.
The event's organisers have said they will send advice to runners in the event of hot weather.
BBC presenter Sophie Raworth will also be running the London Marathon this weekend and has recently completed the Marathon des Sables - a 150-mile run over six days through the Sahara Desert.
In 2011, Ms Raworth collapsed during the London Marathon when her core temperature rose to 41C (106F) but went on to finish the race.
Speaking to BBC Radio 5live, she advised runners to drink enough water but not too much as that could flood a person's system.