Cliff Richard privacy case: I acted fairly, says BBC reporter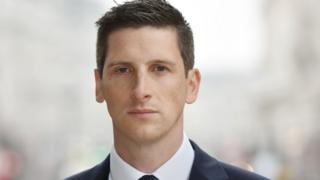 The BBC journalist who broke the story about the police investigation into Sir Cliff Richard has told the singer's privacy case he acted in a "professional and fair" way.
Asked if he wanted to make a "personal apology" to Sir Cliff, Dan Johnson told the High Court he was sorry the star "went through such a difficult time".
Sir Cliff was not arrested or charged.
The BBC says its report on South Yorkshire Police's sexual assault inquiry was of public interest.
Lawyers for the corporation say its coverage was accurate and in good faith, and journalists had respected Sir Cliff's "presumption of innocence".
Sir Cliff, 77, who is suing the BBC over the misuse of private information and breaking data protection rules, was in court to hear Mr Johnson give evidence.
He says he suffered "profound and long-lasting damage" after the BBC named him and broadcast footage of police searching his Berkshire flat in August 2014.
Questioned by Sir Cliff's barrister Justin Rushbrooke QC, Mr Johnson acknowledged using the term "celebrity paedo" when referring to the case in an email to a colleague.
But he said the description was a "shorthand reference" and did not reflect his "overall approach" to the story.
"In all my external dealings on the story and the way that I covered it, I have been professional and fair," Mr Johnson told the judge.
"What matters is what is said publicly and how you conduct yourself with other people externally."
The allegation Sir Cliff had sexually assaulted a boy under the age of 16 in Sheffield in 1985 was passed to South Yorkshire Police by the Metropolitan Police.
Mr Johnson said there had been some "regrettable" false allegations made against some high-profile people, but he had only been reporting the facts of the story at the time the singer's home was being searched.
'Apologise in court'
The reporter told the court he was "pleased to have broken such a big story", but accepted it had left Sir Cliff "upset and distressed".
"I accept the distress he feels, I don't accept it was caused by me uniquely," he said.
"Obviously South Yorkshire Police were part of that and my colleagues at the BBC who were part of the story as well.
"I don't believe I was at fault... I am sure the investigation would have been distressing."
Mr Johnson said decisions about a helicopter being used to film the search - including footage of officers inside Sir Cliff's flat - were taken by senior BBC editorial staff.
"It wasn't for me to consider the bigger picture, the wider implications of what was being broadcast," he told the court.
He added that "the general idea of having the helicopter there... was useful to tell people what was going on."
Sir Cliff's barrister twice asked Mr Johnson if he was prepared to apologise to Sir Cliff in court, before the judge intervened, saying the line of questioning was "not helpful".
'Audible gasp'
In his witness statement, Mr Johnson said he came across the story after speaking to a "contact" in June 2014.
They had talked about high-profile cases involving celebrities and the "confidential source" told him there was "just one more major figure" police were looking at.
Mr Johnson said: "I guessed this to be Sir Cliff Richard because of previous rumours I had heard about him.
"The contact confirmed I had guessed the right name."
Mr Johnson said Carrie Goodwin, South Yorkshire Police's then head of communications, had responded with an "audible gasp" when he asked whether Sir Cliff was on their "radar".
The force says it felt forced to provide Mr Johnson with details of the search to prevent him running a story at that stage, but the reporter insisted he did not put police under any pressure.
"We had an important story of very broad public interest which we should not ignore," he said. "However, I was keen to wait until the next stage in the investigation (i.e. the search) before the BBC ran the story."
Sir Cliff's solicitor Gideon Benaim earlier told the court the BBC coverage "gave an air of authority to conspiracy theorists and online trolls to have a field day".
He said he believed the report caused "online chatter" about Sir Cliff and prompted people to make up "spurious allegations", prolonging the police investigation.