Windrush generation: Your stories and memories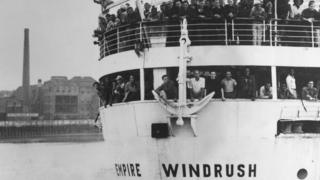 In June 1948, a group of West Indians embarked on a journey aboard the Empire Windrush passenger liner across the Atlantic to help rebuild war-torn Britain - were you on board?
The British government had advertised in the Caribbean for people to come to the aid of the mother country.
Ahead of the 70th anniversary on 22 June, we would like to hear from those who were on board the Empire Windrush, their descendants, and people who have been inspired by the Windrush generation.
We want to share your stories on BBC radio programmes and on the BBC News website to mark the anniversary.
Are you a Windrush pioneer? How did you make a success of life in the UK? Are you a relative of a Windrush passenger?