Wetherspoon on Twitter: The best bits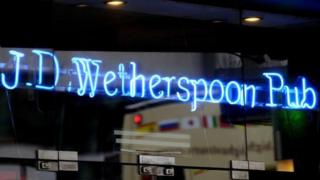 Popular pub chain JD Wetherspoon has announced its head office and 900 pubs are quitting Twitter, Facebook and Instagram, with immediate effect.
The home of bargain pitchers and Curry Club Thursdays linked the move to bad publicity surrounding social media including the "trolling" of MPs and said it would be using its website and printed magazine to release news instead.
Chairman Tim Martin was confident the move would not affect business and told the BBC competitors were "wasting hours of their time" manning social media accounts.
But with social media being a key channel of communication between customer and company, what might it miss?
Hot (potato) debate
Contrary to the rumours, Wetherspoon later clarified their jacket potatoes are "always baked - never fried".
Bewilderment over missing menu items
Pricing queries and 'genius' ideas
Record-breaking fans
Toilet selfies...
... and not quite selfies
Carpet appreciation
There is an entire Twitter account dedicated to the colourful carpets of Wetherspoons across the country. You're welcome.
Great Wetherspoon moments like this
And 26 minutes later...