Cabinet agrees 'need for action' in Syria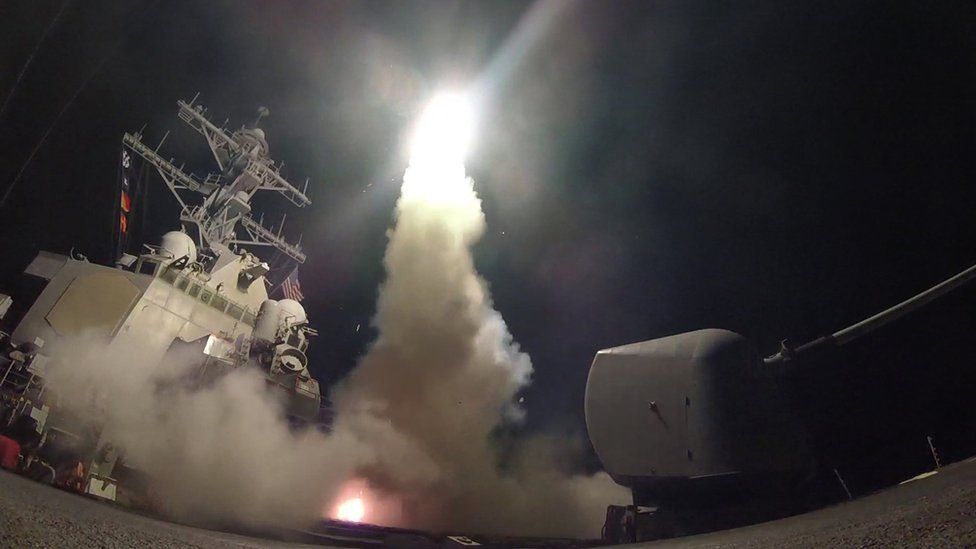 Cabinet ministers have agreed "on the need to take action" in Syria to "deter the further use of chemical weapons", Downing Street has said.
Ministers at a cabinet meeting said it was "highly likely" the Assad regime was responsible for a suspected chemical attack.
They agreed that the use of chemical weapons must not "go unchallenged".
But Transport Minister Jo Johnson later stressed: "There has been no decision to take military action at this point."
No details of UK involvement in any military action in Syria were mentioned in the Downing Street statement.
Labour leader Jeremy Corbyn has accused the government of "waiting for instructions" from US President Donald Trump and said military action was unlikely to solve the situation in Syria.
He said: "More bombing, more killing, more war will not save life. It will just take more lives and spawn the war elsewhere."
Medical sources say dozens of people were killed, including children, during the alleged toxic bombing of the formerly rebel-held town of Douma, in the Eastern Ghouta region.
President Trump spoke to the prime minister on Thursday evening, and the pair agreed that Syrian President Bashar al-Assad had "established a pattern of dangerous behaviour in relation to the use of chemical weapons".
A statement from Downing Street added: "They agreed to keep working closely together on the international response."
President Trump is expected to speak to French President Emmanuel Macron about what form action could take, with the White House saying "no final decision has been made".
BBC political editor Laura Kuenssberg said it was understood the UK was planning a genuinely joint effort with the US and France, rather than playing a supporting role.
Sources say the PM is prepared to take action against the Assad regime without first seeking parliamentary consent.
There have been calls from opposition parties and some Conservative MPs for Parliament to have a vote beforehand.
Labour's shadow home secretary Diane Abbott told BBC Radio 4's Today programme: "It would be outrageous for the government not to bring military action in Syria to Parliament - for Parliament to have a vote...
"The reason they're not doing it is they are frightened they'll lose the vote."
Mrs May has said "all the indications" are that the Syrian regime of president Bashar al-Assad, which denies mounting a chemical attack, was responsible for the alleged attack in the formerly rebel-held town of Douma.
During Thursday's cabinet meeting called to discuss the UK response, she described it as "shocking and barbaric" and said it was a "further example of the erosion of international law in relation to the use of chemical weapons, which was deeply concerning to us all".
By Chris Buckler, BBC US correspondent
The diplomatic discussions are starting to feel like part of a waiting game.
The White House insists that final decisions have still to be made.
However, in their phone call, President Trump and Mrs May agreed it was vital action was taken to deter President Assad's forces from using chemical weapons.
Evidence is still being gathered, but US officials are understood to have results from blood and urine samples that indicate chlorine and a nerve agent were used in the Syrian town of Douma.
But they privately admit they can't be 100% sure.
And with Russia threatening retaliation - and warning of the risk of some kind of conflict with the US - there is pressure to develop a wider strategy, alongside any plan for military strikes.
Downing Street said the cabinet had "agreed it was vital that the use of chemical weapons did not go unchallenged" and "on the need to take action to alleviate humanitarian distress and to deter the further use of chemical weapons by the Assad regime".
"Cabinet agreed the prime minister should continue to work with allies in the United States and France to coordinate an international response," the statement added.
Sir Mark Lyall Grant, national security adviser to Theresa May until 2017, said he would advise the PM to join with the US if a "credible plan" was put forward by its military.
He told BBC's Newsnight: "A very important red line has been crossed by the use of chemical weapons by the Assad regime, and we, the United Kingdom, have a very strong national interest in defending this rules-based international order.
"We shouldn't just rely on the Americans to do that for us. We have as strong an interest as they do."
Senior figures from Russia, which provides military support to the Syrian regime, have warned of a Russian response to a US attack.
On Tuesday President Donald Trump tweeted to warn Russia that a missile attack on Syria "will be coming".
In a subsequent tweet on Thursday, the US president said an attack on Syria "could be very soon or not so soon at all".
Never said when an attack on Syria would take place. Could be very soon or not so soon at all! In any event, the United States, under my Administration, has done a great job of ridding the region of ISIS. Where is our "Thank you America?"

— Donald J. Trump (@realDonaldTrump) April 12, 2018
MPs are due to return to Westminster from the Easter recess on Monday - and a row is continuing between some MPs over whether a vote should take place in Parliament before any action is taken.
Conservative MP and former soldier Johnny Mercer said Mrs May had a "duty" to speak to advocate any action and "bring the country with her".
But he said it was "intellectually bankrupt" to expect the security services to lay out all the information they have.
Labour's former shadow foreign minister MP Catherine West said MPs should be recalled this weekend and be in the House of Commons on Saturday or Sunday to debate the "crucial issue".
Lib Dem leader Sir Vince Cable did not rule out backing military action but he said Parliament would have to give its approval, with conditions.