Save the Children investigated over handling of harassment claims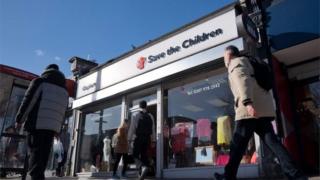 The Charity Commission is to investigate how Save the Children dealt with allegations of misconduct and harassment against its staff.
It said it was concerned whether the charity had "adequately reported the full extent and nature" of claims.
Save the Children came under scrutiny last month after it disclosed evidence of "unsafe behaviour" towards staff.
An ex-chief executive apologised after three female staff made claims of inappropriate behaviour.
Earlier this year, Save the Children made public two reviews - both prompted by staff complaints - about its workplace culture with evidence of "significant omissions and failures" in how the charity responded to harassment allegations.
The charity acted after the BBC revealed an internal report admitting it had failed to deal adequately with complaints of inappropriate behaviour.
A new review was announced to assess whether previous recommendations had been fully acted upon.
The Charity Commission said that, as a result of recent dialogue with Save the Children, it became concerned about the handling of various complaints in 2012 and 2015 - and the decisions the charity made since last February "on its public position regarding these allegations".
It will investigate:
How the charity handled the allegations about senior staff members
Whether the charity carried out appropriate standards of workplace conduct and staff safeguarding
How appropriate its decisions were on reputation management while under scrutiny this year
Whether serious incidents were disclosed "fully, frankly and accurately" to the Commission
The inquiry will not examine the charity's work with its beneficiaries.
In 2015/16, a serious incident involving a senior staff member was flagged up to the Commission alongside an anonymous complaint about Save the Children's response to other allegations.
The watchdog said it received "direct assurance" from charity trustees that recommendations of an independent review had been accepted and "urgently" implemented.
Michelle Russell, director of investigations and enforcement at the Commission, said: "Opening a formal investigation does not necessarily mean that we have concluded that there has been wrongdoing by the trustees of The Save the Children Fund.
"However, we do have questions that must be answered, and we need to hold the charity formally accountable for providing them in a clear and timely manner."