Journalist criticises airport for treatment of disabled passengers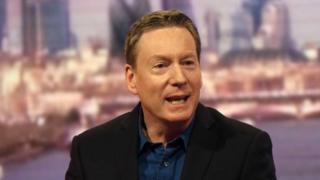 BBC journalist Frank Gardner has criticised Heathrow Airport for how it treats disabled passengers after being kept nearly two hours on a plane as staff said they had lost his wheelchair
When he landed on Saturday morning on a flight, Gardner's wheelchair was taken to the terminal, rather than the plane door, leaving him stranded.
He said: "That is your legs gone. It is a basic human right."
A Heathrow spokesman apologised and said it would investigate.
Gardner landed at the London airport after returning from a trip to Ethiopia to be told ground staff had "lost" his wheelchair.
It took 100 minutes for staff to locate his chair and bring it to the plane, finally allowing him to disembark.
Tweeting throughout the incident, he said he was "utterly sick" of it repeatedly happening when he lands at Heathrow.
He accused the airport of having a "casual disregard" for disabled passengers and said it was "a disgrace to British airports".
Mr Gardner has used a wheelchair since being shot six times by militants while reporting in Saudi Arabia, in 2004.
He told BBC Radio 4's Today programme: "There are hundreds, possibly thousands of others who have this experience and all we get is these platitudes from Heathrow Airport, calling me by my first name and saying they have created a case number for you.
"Nothing changes, it goes on and on happening and it is just so frustrating."
He added: "If you can't walk and your wheelchair has been taken away to the terminal, that is your legs gone, that is your mobility gone.
"It is a basic human right so I am pretty seething about it."
A Heathrow spokesman said: "We apologise unreservedly if the service Mr Gardner received today fell short of the experience we aim to provide to our passengers.
"We are working with the responsible airline to investigate what went wrong in this case."