Parsons Green Tube bombing: Teenager Ahmed Hassan jailed for life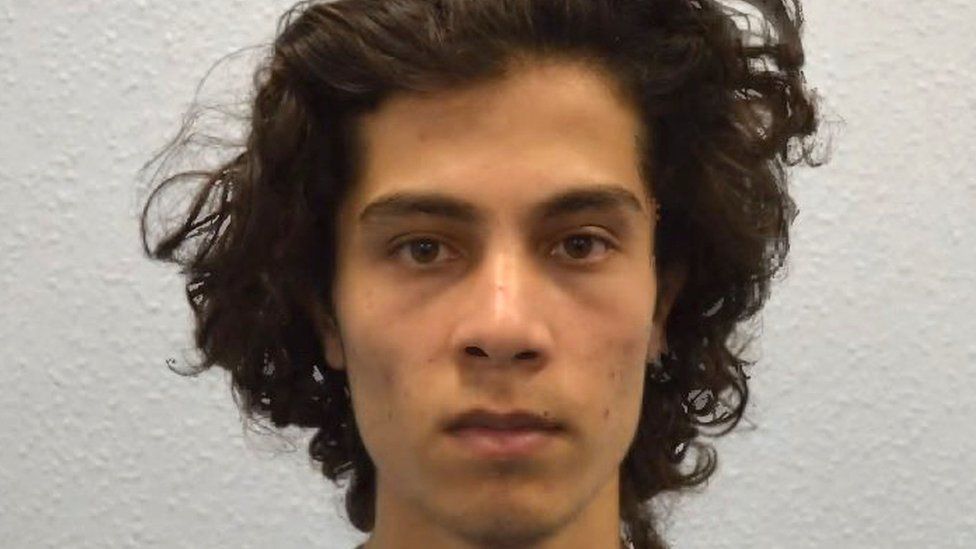 A teenager has been described as "dangerous and devious" by a judge as he was jailed for life for planting a bomb on a Tube train at Parsons Green.
Ahmed Hassan's device partially exploded in September, injuring 51.
The 18-year-old, found guilty of attempted murder, was ordered to serve a minimum of 34 years.
Police said Hassan, from Surrey, appeared to be co-operating with government deradicalisation programme Prevent at the time of the attack.
But the BBC has been told the Iraqi asylum seeker had not agreed to take part in the Prevent scheme, which operates on the basis that people regarded "at risk" give their consent.
In victim impact statements read out in court, commuters said they believed they were going to die and described how they had been troubled by disturbing recollections and fears.
Passing sentence, the judge, Mr Justice Haddon-Cave, said he would be treating the incident as a terrorist offence.
In a January 2016 immigration interview, Hassan told officials he had been in contact with the Islamic State group and had been "trained to kill". The trial also heard he blamed the UK for the death of his father in Iraq.
The judge told Hassan: "There is no doubt that you are a very dangerous and devious individual.
"You quietly went about planning and executing this terrorist bomb attack with ruthless determination and almost military efficiency, whilst pretending to be a model asylum-seeker."
He added: "I am satisfied you were determined to create as much death and carnage that day as possible."
Police have said Hassan appeared to be co-operating with its Channel programme, part of the Prevent deradicalisation scheme, at the time of the attack.
But the BBC understands Hassan had not agreed to take part - despite consent being a fundamental principle of the programme.
In a statement, Surrey County Council said that staff from the local Channel panel met Hassan on many occasions between February 2016 and September 2017.
The council said Hassan had received "extensive support" including from mental health and educational experts, which the Channel panel monitored and reviewed.
Surrey acknowledged Hassan did not have a specialist mentor from the programme working with him.
It refused to respond when asked if Hassan had consented to be on the Channel programme.
Hassan's bomb partially exploded at 08:20 GMT after the train arrived at Parsons Green station, leaving 23 people with burn injuries and 28 suffering crush injuries as they fled from the train and station.
Prosecutors at the sentencing hearing said there would have been "serious harm, if not fatality" if the bomb - packed with 2kg of screwdrivers, knives, nuts and bolts - had fully detonated.
Hassan had built the bomb in the home of his foster parents in Sunbury-on-Thames while they were away.
On the morning of 15 September, he took a westbound District Line train from Wimbledon, getting off one stop before Parsons Green. His device, which had a timer and was placed in a supermarket plastic bag, was left on the floor of the carriage.
He was arrested the following morning at Dover.
Hassan arrived in the UK in a lorry after having spent time in the migrant camp in Calais known as the Jungle and he was referred to Surrey County Council's social services - a standard procedure for unaccompanied child asylum seekers.
Hassan's foster parents were not aware of the concerns that he harboured extremist views.
Following the verdict, Surrey County Council apologised, saying its work "wasn't as good as it should have been" in helping to stop individuals from being drawn to terrorism.
In a victim impact statement read by prosecutor Alison Morgan, Stephen Nash said he had to give up his job as a social worker because he feared getting on the Tube since the incident and does not like being amongst crowds.
Ann Stuart said she became "tearful for no discernible reason" and had frightening dreams, adding: "Since this happened I wake most mornings shaking and anxious".
Another victim, identified only as Miss S who suffering 16% burns to her body after the fire from the device melted her tights, had to see a psychologist.