Police took 'squatters' rights' on dead children's identities
By Danny Shaw
Home affairs correspondent, BBC News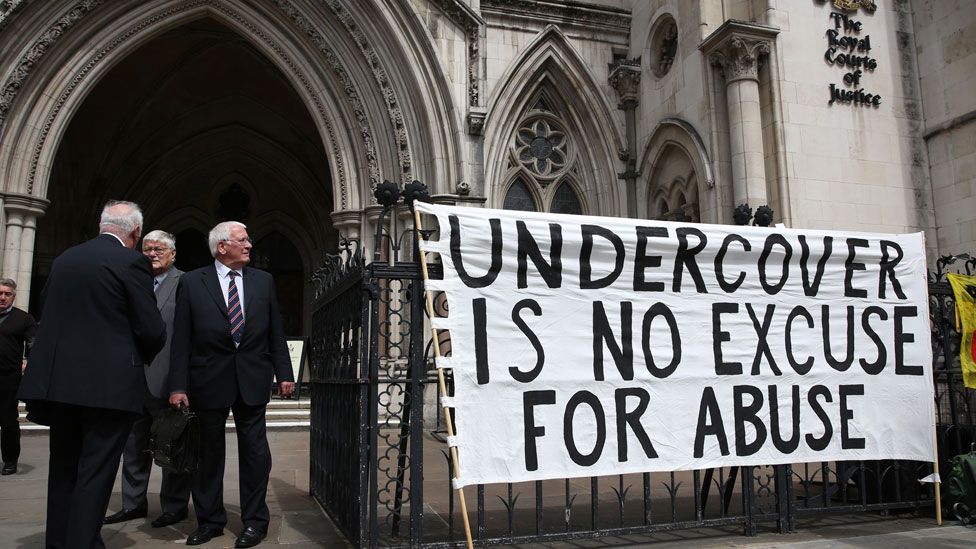 The advice, from 1995, told undercover police wanting to use a dead child's name to check the "respiratory status" of their relatives.
One former activist called the tone of the document "sleazy and revolting".
A heavily redacted version of the manual first emerged three years ago.
The Special Demonstration Squad Tradecraft Manual also warned that undercover police risked "serious consequences" if they had long term sexual relationships with people they were targeting.
It said if police had "no other option" to become involved then the relationship should be "fleeting" and "disastrous".
"Alison", a social justice campaigner who had a five year relationship with undercover officer Mark "Cassidy" Jenner and only later discovered the deception, said the document was "dehumanising of people".
"My gut feeling is this is a cynical and exploitative document that reveals many things about the SDS [Special Demonstration Squad] but most of all their institutional sexism," she told the BBC.
The Undercover Research Group, which provides online information to the inquiry, tweeted: "How low can you go? Making morbid jokes about the family of a dead child... and then 'assuming squatters' rights of the unfortunate's identity."
In one section, entitled "Sexual Liaisons", the manual says: "In the past emotional ties to the opposition have happened and caused all sorts of difficulties, including divorce, deception and disciplinary charges.
"While it is not my place to moralise, one should try to avoid the opposite sex for as long as possible."
It continues: "While you may try to avoid any sexual encounter there may come a time when your lack of interest may become suspicious.
"These options are fraught with difficulty and you must make your own mind up about how to proceed.
"If you have no other option but to become involved with a weary [a slang term for a protestor], you should try to have fleeting, disastrous relationships with individuals who are not important to your sources of information.
"One cannot be involved with a weary in a relationship for any period of time without risking serious consequences."
The document says that "by tradition" an aspiring undercover officer's first major task was to "spend hours and hours at St Catherine's House leafing through death registers in search of a name he could call his own".
It suggested officers pick a "fairly anonymous" name and ensure that the death was "natural or otherwise unspectacular, and therefore unlikely to be findable in newspapers or other public records".
It went on: "Further research would follow to establish the respiratory status of the dead person's family, if any, and, if they were still breathing, where they were living.
"If all was suitably obscure and there was little chance of the SDS officer or, more importantly, one of the wearies running into the dead person's parents/siblings etc., the SDS officer would assume squatters' rights over the unfortunate's identity for the next four years."
The manual was written by a former deputy police and crime commissioner, Andy Coles, who resigned in May last year after allegations surfaced about his work as an undercover policeman.
Mr Coles, a Conservative Party councillor in Peterborough, was accused of deceiving a female activist into having a relationship with him while he infiltrated a group of animal rights campaigners in the 1990s posing as "Andy Davey".
The Inquiry into Undercover Policing has set out details of Mr Coles' deployments, after his covert role was first mentioned in an autobiography by his brother, the Radio 4 presenter, Reverend Richard Coles.
The former Metropolitan Police officer infiltrated the Animal Liberation Front, the Animal Liberation Front Support Group, London Boots Action Group/London Animal Action, London Animal Rights Coalition and Brixton Hunt Saboteurs between 1991 and 1995.