Travel warnings as snow and ice hit UK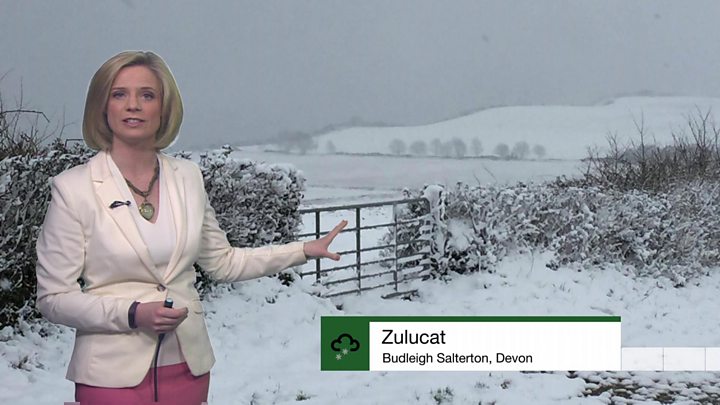 Snow and ice are causing further disruption to road, rail and air travel in parts of the UK.
A Met Office amber warning of a possible risk to life because of snow is in place in south-west England until the early hours of Monday morning.
Video from Okehampton in Devon shows dozens of vehicles stranded on the A30. Many other motorists have taken refuge in the car park of a service station.
Scores of schools in the county will be closed on Monday due to heavy snow.
BBC correspondent Sarah Ransome says despite having gritters out relentlessly, the county is still covered in "a very heavy dump of snow".
At least one hospital in Devon has been asking for volunteer drivers to help ferry staff to and from its facilities.
Airports have been shut and several sporting events have been cancelled, including the Reading half-marathon, while some roads are impassable.
All Flybe services at Exeter Airport were cancelled and on Monday passengers are warned to expect disruption until mid-morning.
Bristol Airport was closed temporarily due to the snowfall while Heathrow, Gatwick, Stansted and Luton remain mainly unaffected but have urged passengers to check flight information before travelling.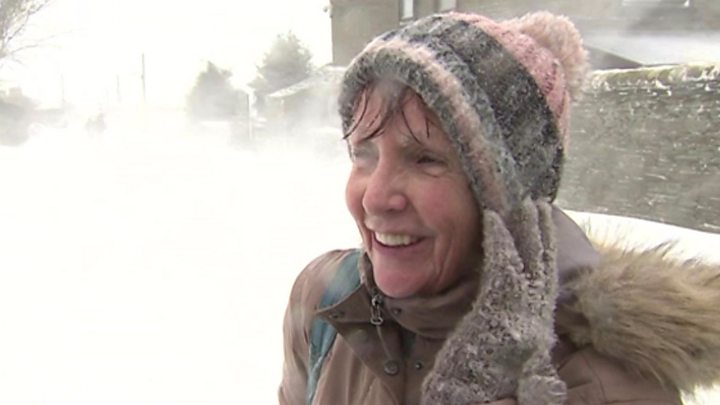 Snow and ice have also led to road closures and vehicles being abandoned, with police warning motorists to avoid certain routes.
Two multi-vehicle crashes have caused long delays on the A30 around Okehampton and Whiddon Down in Devon.
A police officer tweeted from the A30, urging motorists to be cautious:
Overnight on Saturday, officers from Lincolnshire Police spent seven hours digging out 35 stranded vehicles after they became stuck in snow drifts on the A158 near Edlington.
And Richard Leonard, Highways England's head of road safety, said that while gritters would be treating the roads, it was "important to drive to the conditions when snow is forecast".
Meanwhile, Great Western Railway, South Western Railway and Great Northern Rail reported delays and cancellations.
Customers have been encouraged to check National Rail Enquiries before leaving home.
Among other transport disruption caused by snow and ice:
Bus company First South Yorkshire cancelled a number of services across the region, with Sheffield badly affected
The Heathrow Express operated a reduced service between London Paddington and Heathrow Airport
South Western Railway warned freezing temperatures were causing numerous points failures, including at Eastleigh and Aldershot
Some rail replacement buses around Manchester were unable to run
Cheshire Police warned there was "no route to safely cross the Pennines into Cheshire"
Other roads blocked by snow or stranded vehicles included the A54, A537 Cat and Fiddle and B5470, the A38 northbound between Birmingham and Burton, the A3 southbound at Thursley, and the A331 Blackwater Valley Relief road
In Cumbria, mountain rescue teams were called to help 15 people stuck in a cafe near Kirkby Stephen, and an ambulance that could not reach patients in Langdale.
Elsewhere, the Anglo-Welsh Cup final was just one of a number of sporting events and fixtures postponed due to the weather.
The City of Lincoln 10km and Shrewsbury 10km run were called off, as were half-marathons in Wigan and Wilmslow.
However, about 100 runners held their own unofficial half-marathon in Reading, despite the snow.
There was no horse racing in Britain as both Carlisle and Ffos Las abandoned events due to the weather.
And in football, Derby's Championship match against Cardiff was postponed.
The surrounding areas of Pride Park were left in an unsafe condition following heavy overnight snowfall, officials said.
In West Yorkshire, BBC Look North's Sport Relief "Big 50 Sofa Challenge" was also postponed.
Presenters of the regional TV news programme were due to push a red sofa 10 miles from Bradford to Haworth, but organisers called it off due to "treacherous" conditions.
Meanwhile, Six Nations champions Ireland cancelled their homecoming "due to heavy snowfall".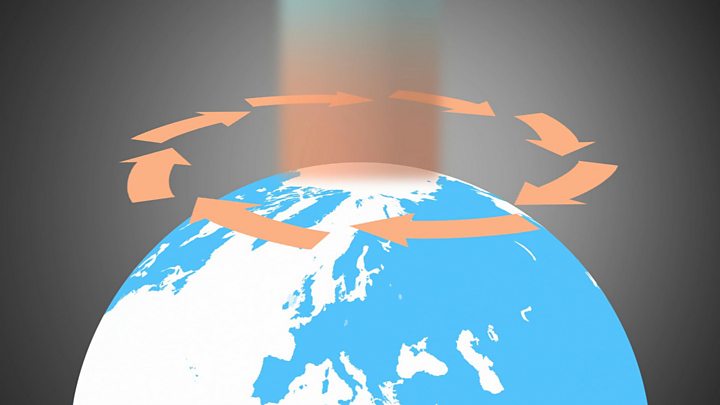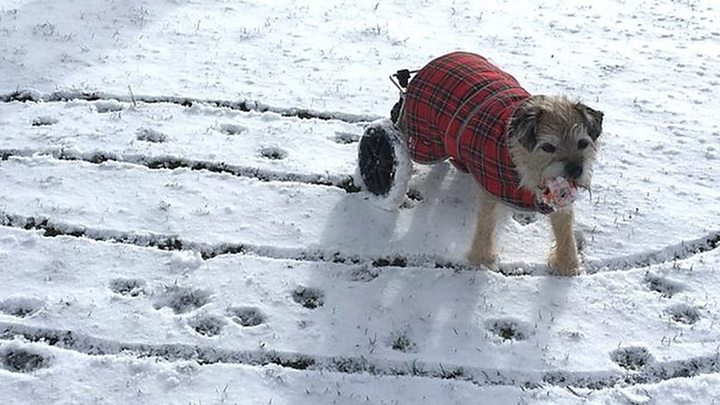 An amber weather warning remains in force for south-west England overnight with 5-10 cm of snow forecast to fall within a few hours.
But Dartmoor could see as much as 20-30cm, the Met Office said.
Yellow "be aware" warnings for ice also affect much of England and Wales, central and south-west Scotland until Monday morning.
The wintry snap dubbed the "mini beast from the east" brought the heaviest snow showers on Saturday to north-east England and the North Midlands, as well as parts of southern England - including Hampshire, Sussex and Kent.
A cold spell nicknamed "the Beast from the East" saw much of the UK and Europe blanketed in snow at the start the month.