Russian spy: Labour row over Jeremy Corbyn's position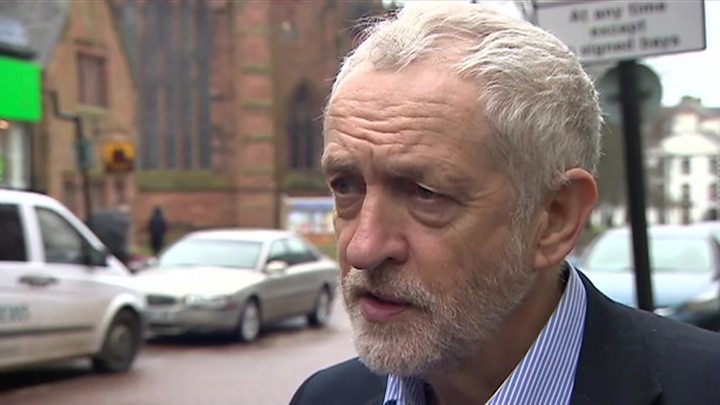 Jeremy Corbyn's warning not to "rush ahead of the evidence" over the nerve agent attack has "muddied the waters", a Labour MP has said.
The UK government says the Russian state is responsible for the poisoning of a former spy and his daughter.
Mr Corbyn has condemned the attack but says the involvement of Russian "mafia-like groups" can not be ruled out.
More than 30 Labour MPs have signed a motion which "unequivocally" accepts the Russian state's "culpability".
On Wednesday, Prime Minister Theresa May told the Commons that Russia was "culpable" for the attack and that she was expelling 23 Russian diplomats - but Moscow has denied all involvement.
On Thursday, amid calls for him to be firmer in his condemnation of Russia, Mr Corbyn said the "evidence points towards Russia on this".
But later in an article for the Guardian newspaper, he drew a link with the build-up to the war in Iraq and warned that "clear thinking in an international crisis" could be "overwhelmed by emotion and hasty judgement".
Labour backbencher Stephen Kinnock told the BBC Mr Corbyn's first statement, on Thursday, was "a step in right direction" but added: "I think the article he wrote after that then muddied the waters somewhat.
"I think what we need is a very clear line from our leadership stating very clearly that we stand shoulder-to-shoulder with our allies and with the government in the action it's taken."
'Irrelevant malcontents'
Labour MP Chris Williamson, an ally of Mr Corbyn, told BBC Two's Newsnight that "clearly it looks like the evidence points to Russia", but said the UK needs to "make sure we get our facts right" before "leaping into action".
He said his leader's approach was "not about being nice to Russia" but about taking "a statesman-like approach".
And he dismissed those criticising Mr Corbyn's stance as "a tiny minority of irrelevant malcontents" who are "fighting a proxy war" to undermine the party leader.
Russian former spy Sergei Skripal, 66, and daughter Yulia Skripal, 33, remain critically ill in hospital, 11 days after they were found unconscious on a bench in Salisbury, Wiltshire.
An Early Day Motion, sponsored by Labour backbencher John Woodcock, who has criticised Mr Corbyn's leadership of the party in the past, states that the signatories "fully support the statement made by the prime minister on 14 March 2018 in response to Russia's illegal attack on the UK".
Analysis
By Laura Kuenssberg, BBC political editor
Whether there is specific direct proof that there was Russian state involvement in the attack or not, the majority of MPs in the House of Commons agree that there is enough evidence and a pattern of behaviour that make this an appropriate moment to take some diplomatic moves against the Putin regime.
While not opposing those specific actions, Mr Corbyn's tone and reaction to those moves have cracked open Labour's political truce.
His comments have stoked worries about the leader's foreign policy views that have been one of the sources of division in the Labour Party since he became its top pick.
In his Guardian article, Mr Corbyn wrote that he agrees with the expulsion of the diplomats and describes the use of a military-grade nerve agent as "barbaric and beyond reckless".
But he says that although the evidence points to Russia - the public deserve "calm heads and a measured response" from the government.
"To rush way ahead of the evidence being gathered by the police, in a fevered parliamentary atmosphere, serves neither justice nor our national security," he writes.
Mr Corbyn says if Moscow is not to blame "a connection to Russian mafia-like groups" cannot be excluded.
He said Russian authorities should be "held to account on the basis of evidence", adding: "But let us not manufacture a division over Russia where none exists."
Others in his shadow cabinet have been more explicit in blaming the Russian state. Shadow Defence Secretary Nia Griffith said the party accepted that "Russia is responsible" while Shadow Foreign Secretary Emily Thornberry is reported to have said there was "prima facie evidence" against the Russian government, which "must face the consequences".
Shadow Brexit Secretary Sir Keir Starmer said it was "the right conclusion" for the prime minister to determine that there was "no alternative explanation other than that responsibility lies with Russia".
He said it was an "attack on our sovereignty" and, referencing the murder of former KGB agent Alexander Litvinenko in London, in which he acted as a lawyer to bring a case against Russia: "This is not the first time and it needs to be called out with no ifs and no buts."