Parsons Green attack: The Iraqi fantasist who wanted attention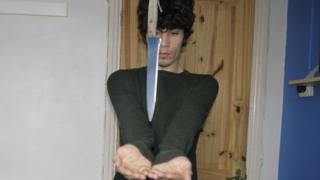 A teenage Iraqi asylum seeker has been found guilty of attempted murder after planting a bomb that partially exploded on a Tube train at Parsons Green.
Ahmed Hassan had been in the UK for almost two years when he left a homemade bomb on a busy District Line train in London during the morning rush hour.
The 18-year-old, who had been living with foster parents in Sunbury, Surrey, had been studying media at college and had ambitions to become a wildlife photographer "like David Attenborough".
Describing himself as very shy, he said he "enjoyed being behind the camera rather than in front of the camera". He was religious, a Sunni Muslim, and prayed five times a day.
Hassan was considered a clever pupil at college, according to his teacher, and had been named student of the year just three months earlier, winning a gift card.
But he used the gift card to buy five litres of hydrogen peroxide in order to make a bomb.
He was bored, wanted attention and, the teenager said, it was part of his fantasy.
Influenced by action films, he said he wanted to be chased as a fugitive - and not get caught.
'Trained to kill'
It was not his intention to cause an explosion on the Tube train, he said. He only wanted to cause a fire.
But prosecutor Alison Morgan called him "calculated and clever", saying that it was a "matter of luck" that there had not been a full explosion that day.
Ms Morgan said his actions were "an act of anger and hatred designed to cause death and destruction of property".
Hassan blamed the UK for the death of his father in Iraq, she said, highlighting that he had previously told Home Office officials that he had been captured by the Islamic State group and was "trained to kill".
But Hassan claimed this was a story he made up to improve his chances of staying in the UK and denied ever having contact with IS.
He said he did not hold the UK responsible for his father's death, saying he expressed anger at Britain's involvement in Iraq so people would not see him as a coward.
In court, with his head cast downwards, and speaking quietly, Hassan began his defence by describing his background and his journey from Iraq to the UK.
He was born Ahmed Hassan Mohammed Ali in Baghdad in 1999. He had an older brother, Fallah, who is now about 25 and is still in Iraq.
His parents died when he was younger, he said. He was too young when his mother died to remember her.
His father, a taxi driver, died in an explosion in 2006, he said.
"He used to go to work and come back evenings, and then he did not come back.
"It was very difficult. I did not understand what was going on. I was in a state of confusion because of fighting, because of bombing."
Hassan was brought up by his uncle. He said he was about 12 years old when he began working part-time as a labourer, moving vegetables and other goods on the Iraq-Iran border.
He left school at 15 to work full-time in the same job - 16 hours a day, seven days a week.
"I was bored in my job and I wanted a better life," he told the jury.
He wanted to learn English and study, so he headed to Europe.
The teenager said he travelled to Turkey and paid a smuggler to get him to Italy. He was picked up by the authorities there, but was released.
He eventually ended up at the infamous makeshift migrant camp, the Jungle, in Calais, France.
Then only 16, he stayed there for about two months before reaching the UK in the back of a lorry in October 2015. He was found by police near Gatwick Airport.
He was taken to Bay Tree - a home in Horley, Surrey, run by the children's charity Barnardo's - which he said was a relief after the refugee camp.
It was while he was at Bay Tree, in January 2016, that Hassan attended a Home Office immigration interview.
During that interview Hassan claimed he had been recruited by the Islamic State group in Iraq and had been "trained to kill".
Alarmed by what he said, Barnardo's staff alerted the police and the Home Office Prevent programme.
A week later, an official from the local Surrey Prevent programme visited Bay Tree and told staff there was "no cause for concern."
Staff were told to watch out for any unusual behaviour such as him hanging an IS "black flag" in his room. There is no record of any discussion between the Prevent official and Hassan himself.
From there, he was moved to a hostel in Epsom. He said he was not happy and told the court he had ended up in hospital for a few days under suicide watch.
Hassan started studying a media course at Brooklands College in Weybridge, Surrey, in May 2016, and he went on to complete the National Citizen Service programme.
Kayte Cable, a lecturer and mentor of his, said he was in "the worst state" she had seen a student. She said he seemed "incredibly conflicted, frightened, confused".
Hassan went to live with foster parents, Penny and Ron Jones, in Surrey. He said: "I never spoke to them. We never had a close relationship."
Sarah Anderson, the Chair of the Foster Carers Union, was contacted by Penny and Ron Jones soon after the incident at Parsons Green.
She says the police raid on the Jones's home was a huge shock for the elderly couple, who have been foster carers for more than 40 years.
"They were really taken from the house very suddenly, I think the police were very nice to them, but it was absolutely shocking. She couldn't take her walking stick or her medication… it was a most horrendous shock."
Ms Anderson, a foster carer herself, is sure that Ron and Penny Jones were never told about Hassan's claim to be a trained IS killer.
"I can honestly say… I doubt there are any carers... knowing that information that would take those children… I would doubt very much that they knew that. Very much"
Hassan also ran a business selling mobile phones online, making about £100 a week.
He said he had trouble sleeping over the summer of 2017, having bad dreams. The restless teenager said he would run to exhaust himself to help him fall asleep.
But other times he would have five or six energy drinks a day to avoid sleep because of the nightmares. He would watch films and TV for hours, he said.
One picture seen by the jury during the trial showed that Hassan had repeatedly written "I am bored" on his bedroom door. He said he had considered suicide "many, many times".
It was this boredom that was partly to blame for his actions, he told the jury. He apologised, said he regretted it and wished he could travel back in time.
But prosecutor Ms Morgan called it "a very calculated act of anger".
She said Hassan had packed the bomb with screwdrivers, knives and nails to cause "maximum carnage". He "left nothing to chance" in his planning, she said.
When she asked why he had done it, he said: "I had a fantasy in my head.... The fantasy was not about the explosive, it was about getting away from police."
He was asked why again.
"It was a fantasy. I was bored. I wanted attention."
But Ms Morgan told the jury: "You can be sure it was not an act of attention-seeking or boredom.
"This was someone who wanted to cause death and damage and make good his escape."