Crossing Divides: Meet the British Army veteran turned pro-mosque campaigner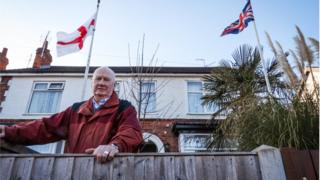 It's hard to miss Ian Durrant's house in Lincoln.
A Union flag and the cross of St George flutter 20ft (6.1m) high in his front garden.
Ian says they're there "because I'm a veteran and I'm proud to be English". But he admits the flags sometimes give off the wrong impression.
"Someone came to talk to me, and he said, 'Congratulations on flying the flag, what are you going to do about those bloody Muslims?' I said, 'Are you National Front?' 'Yes I am, brother,' he said. So I advised him - using army language - to get out of my garden."
A decade of waiting
With its towering facade, jade green dome and glistening gold crescent, Lincoln's first purpose-built mosque is already settling into the city's skyline.
In a few weeks the £2m ($2.9m) building will officially open - more than a decade after its first planning application was submitted to the council.
Ian was one of the mosque's most vociferous opponents. The former soldier - who served for 25 years in the army - set up a group trying to stop the application.
But he says his reservations were about traffic.
"There was no parking, there would have been nearly 90 cars, and the building only provided 12 parking spaces."
'We'll burn the mosque'
However, things then got nasty. The site where the mosque was planned to be built burned down in unexplained circumstances.
On three separate occasions, groups including the English Defence League (EDL) and East Anglian Patriots marched through the city centre.
Participants shouted chants like "Burn the poppy, and we'll burn the mosque".
Worried that his campaign against the mosque was being hijacked by anti-Islamic groups, Ian felt compelled to act.
"We had a letter campaign in the press against the EDL, asking people, 'If you see them, turn your back on them and walk away.' And they did," he says.
Rumours flying
Lincoln's Muslim population is small compared with cities such as Leicester or Birmingham, but it's long outgrown its current mosque. On Friday - the most important day of the week in Islam - it has to rent a larger community hall to accommodate about 250 worshippers.
After the mosque's initial planning bid failed, a subsequent application at a former dairy site was approved. This placated people like Ian who had been unhappy about the original location, but others were still sceptical about the mosque's intentions.
Tanweer Ahmed, chairman of the Lincoln Islamic Association, says there were rumours flying around that the new mosque would have "loudspeakers doing the call to prayer five times a day - and some thought we would try and get rid of the local war memorial".
In reality, he says, local Muslims simply wanted "to feel comfortable".
So he decided to act - by knocking on every door in the area.
Safety worries
"A lot of people welcomed us - but a few people were not happy. We were giving them leaflets, and they were throwing them straightaway into the bin," Tanweer says.
Even Muslim people questioned his moves.
"My wife was saying, 'Why are you doing that?', and my children were worried that someone could harm me. Some of my colleagues were also worried about safety. And there were some that just didn't want to do it."
Tanweer also needed to show locals that the presence of Islam in their area wouldn't threaten their way of life. So he reached out to Ian.
"I knew nothing about Islam, and someone sent me an email saying, 'We're running a series of talks - would you like to come?' So I did. I sat in the front on my own and it was fascinating," Ian says.
He's attended so many events - including Eid celebrations and mosque open days - that many worshippers recognise him on the street. But he's raised eyebrows within his own community.
"I took pride in being friends with, and talking to, Muslim people. Other people would say, 'Why the hell are you doing that?' And I said, 'They're people.'"
Joining Remembrance Day
"If I look out of the window to the left, I can see the cathedral in its glory," says Ian, as he draws a net curtain. "If I look right I see the mosque. East has met West in Lincoln."
Lincoln is best known for its beautiful 1,000-year-old cathedral. But it also has links with the armed forces - it was the birthplace of the military tank, and produced the renowned Royal Lincolnshire Regiment.
So Remembrance Day is a big deal for local residents. Ian and other veterans parade at their local war memorial, just 100 metres from the new mosque.
In 2012, he got a pleasant surprise when Tanweer and other Muslims turned up, carrying wreaths and wearing poppies.
"People who I knew have said, 'It's good to see them joining in the community.' I said, 'Tanweer Ahmed is here - not out of invite, but by right!'"
Shared history
Tanweer says some Muslims were sceptical about attending the memorial.
"People were saying, 'Why are you going there? Why do we need to go there?' I said to them, 'We live in this country, and these people have given their lives to save this country.'"
He also wanted to highlight both the English and Muslim communities' shared history. In World War One, 400,000 Indian Muslim soldiers fought for Britain, and in World War Two, 600,000 soldiers took part.
Tanweer says it was important for him and Ian to step into each other's sacred spaces and embrace each other's cultures, without sacrificing their own identities.
"Locals feel much more comfortable if we go to their space, they can ask us questions - but if they come to mosques, they might not feel comfortable asking questions," says Tanweer.
"So it's important that we visit them. But at the same time, they're coming to us".
Focusing on the future
Tanweer will be relieved once the mosque opens. But he knows his job isn't over.
Last year's terrorist attacks have created a sense of unease among Muslims in the city. Tanweer himself has been verbally abused, and the old mosque has been pelted with stones.
He thinks the Muslim community needs to continue engaging with locals to prevent any more trouble. He hopes the new mosque can help by offering space within the building for non-Muslims to run activities, such as children's clubs or exercise classes.
"A lot of people don't know what happens in the mosque, so if they're using the mosque on a regular basis, they will feel much more comfortable building a relationship with us," Tanweer says.
Ian's excited about the mosque's opening ceremony, and hopes to bring his friends along. He admits that their opinions about Islam have changed over the years - largely thanks to him.
"My guys - apart from one - don't mention Muslims any more to me. I'd like to think they're accepting my way of thinking. I don't like prejudice.
"I served in Kuwait with Muslims. I served in Borneo with Muslims. It makes me feel very proud that I have been accepted."
---
Crossing Divides
Crossing Divides: a week of stories about people creating connections in a polarised world.